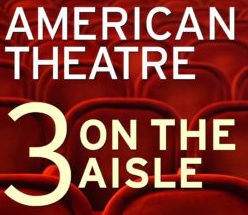 The twenty-first episode of Three on the Aisle, the twice-monthly podcast in which Peter Marks, Elisabeth Vincentelli, and I talk about theater in America, is now available on line for listening or downloading.
Here's an excerpt from American Theatre's "official" summary of the proceedings:
This week, the critics answer a question from a reader about whether critical standards should be different in reviews of community theatre versus Broadway theatre.

Then they turn the tables on each other! The critics ask each other questions, such as, "Which Shakespeare play would you be happy never to see again?" and "What classic musical or play do you find irredeemably bad?"…
To listen, download the latest episode, read more about it, or subscribe to Three on the Aisle, go here.
In case you missed any previous episodes, you'll find them all here.