In this week's Wall Street Journal "Sightings" column, I write about the current plight of the Metropolitan Opera—and its wider implications. Here's an excerpt.
* * *
After James Levine, what? When the Metropolitan Opera's music director emeritus was fired earlier this year after the company charged him with "sexually abusive and harassing conduct" toward younger artists, it was clear that some kind of change had to come. And sure enough, plenty is happening at the post-Levine Met, which has announced a roster of forthcoming innovations, many of which sound promising—on paper. Yet the more things change, at the Met and at other major American opera companies, the more they seem to stay the same.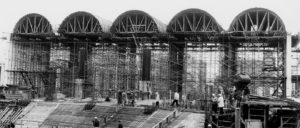 The Met's widely reported plans, which started with bringing in a youngish music director, 43-year-old Yannick Nézet-Séguin, now include commissioning operas from two female composers, Missy Mazzoli and Jeanine Tesori. In addition, the American premiere of Nico Muhly's "Marnie," a stage version of Alfred Hitchcock's "Marnie," opens on Oct. 19. In the pipeline for the future are a new "Hamlet" opera and revivals of Philip Glass' "Akhnaten" and Jake Heggie's "Dead Man Walking"…and my eyes are already glazing over.
For openers, why on earth is the Met importing an opera based on one of Hitchcock's biggest and most notorious disasters? And what makes Mr. Gelb think that Ms. Tesori, the composer of such Broadway hits as "Fun Home" and "Shrek the Musical," is capable of turning out a score that has the size and weight necessary to go over in a king-sized house that was purpose-built for grand opera? (Her two previous ventures into opera are a small-scale one-act piece and a children's show.) As for "Aknahten" and "Dead Man Walking," they're "innovative" only in the sense that they're new to the company, whose repertory for the current season includes, as usual, "Aida," "La Bohème," "Carmen" and "La Traviata," the four most frequently performed operas in the Met's history….
I'm already on record as believing that Mr. Gelb's protracted failure to deal with Mr. Levine's alleged misconduct makes it impossible for him to lead the Met into the future, and that he should resign or be fired. (Granted, Mr. Levine has consistently denied the charges, but the Met has made it perfectly clear that it doesn't believe him.) Nor was I impressed by his unsure stewardship of the company prior to Mr. Levine's long-overdue dismissal. At the same time, though, I've been giving much thought to a 2014 interview in which Mr. Gelb claimed that grand opera is "a dinosaur of an art form….what I'm doing is fighting an uphill battle to try and maintain an audience in a very difficult time."
Was Mr. Gelb right to bemoan what he called the "cultural and social rejection of [grand] opera as an art form"? And is the Met the canary in the coal mine of American opera?…
* * *
Read the whole thing here.