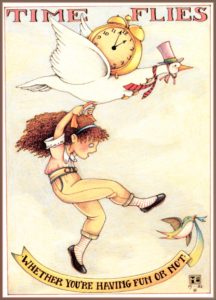 Life, I'm told, is supposed to slow down as you grow older, but the opposite has happened to me. Instead, it's become more hectic—and more fulfilling. I spent a few minutes the other day scribbling down some notes about what's happened to me in the past decade and a half. Here are some of the high points:
• In 2003, I became the Journal's drama critic and launched this blog.
• In 2005, I fell in love at first sight with the future Mrs. T and, a month later, nearly died of congestive heart failure.
• In 2006, I turned fifty.
• In 2007, Mrs. T and I got married.
• In 2009, The Letter, my first operatic collaboration with Paul Moravec, was premiered in Santa Fe. A few weeks after that, Pops, my Louis Armstrong biography, was published.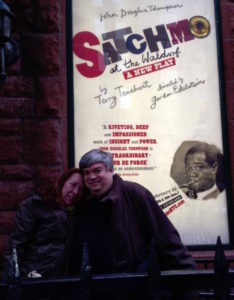 • In 2010, I started writing my first play, Satchmo at the Waldorf.
• In 2011, Satchmo was premiered in Florida.
• In 2012, I received a Guggenheim Fellowship. A month later, my mother died. I then spent six weeks working on Satchmo and Duke, my Duke Ellington biography, at the MacDowell Colony, after which Satchmo received its first major productions in Massachusetts and Philadelphia.
• In 2013, Duke was published.
• In 2014, Satchmo was produced off Broadway.
• In 2016, I turned sixty and made my professional debut as a stage director.
• In 2017, Billy and Me, my second play, was premiered.
I'm sixty-two years old. I wonder what will happen to me between now and 2033?
* * *
Jimmy Durante sings "September Song," by Kurt Weill and Maxwell Anderson, on TV in 1955, the year before I was born: