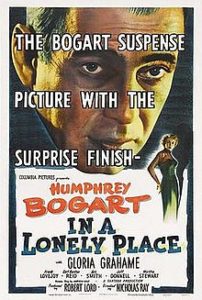 Titus Techera, who hosts a podcast for the American Cinema Foundation on which he and his guests discuss important films of the past and present, invited me back to talk about Nicholas Ray's In a Lonely Place on his latest episode. Our hour-long chat is now available on line.
Titus and I spoke at length and in detail about the 1950 film, produced by Humphrey Bogart's Santana Productions, which starred Bogart and Gloria Grahame and was very freely adapted by Andrew Solt from Dorothy B. Hughes' 1947 novel of the same name. It is, in my opinion, Ray's masterpiece, a movie that is universally and rightly regarded as one of the half-dozen greatest examples of the film noir genre even though it fails to conform to many of the stock conventions of noir filmmaking (about which we talk in the podcast).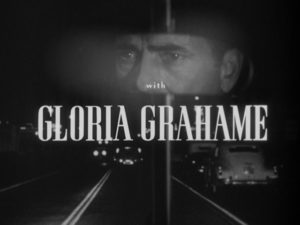 Here's part of Titus' summary of our conversation:
Titus and Terry Teachout discuss In a Lonely Place, the 1950 Nicholas Ray noir, Bogart's most daring performance—a movie with a modern feel, with sophisticated adult characters, men and women, who nevertheless suffer great misery. We talk about Ray's talent for bending genre to tell stories that feel true to characters he establishes within genre. We also talk about film noir's connection to tragedy, to post-war America, and to our own times….
To listen to or download this episode, go here.
* * *
The original theatrical trailer for In a Lonely Place:
A scene from the film: