In today's Wall Street Journal I review the Broadway premiere of The Lifespan of a Fact and a Connecticut revival of The Drowsy Chaperone. Here's an excerpt.
* * *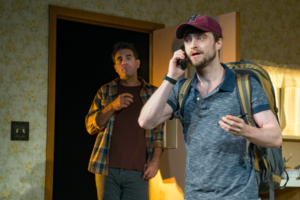 Whatever happened to the smart, well-wrought stage comedies of yesteryear? They're not dead yet—in fact, a new one just opened on Broadway. "The Lifespan of a Fact," written by Jeremy Kareken, David Murrell and Gordon Farrell, is the sort-of-trueish story of Jim Fingal (Daniel Radcliffe), a mild-mannered obsessive-compulsive intern-turned-fact-checker for a New Yorker-type magazine. Jim's hard-nosed editor (Cherry Jones) assigns him to disentangle truth from untruth in an essay by John D'Agata (Bobby Cannavale), a writer whose self-acknowledged practice is to "take liberties with things that deepen the central truth of the piece." In other words, John makes stuff up—lots and lots and lots of stuff, as the hapless Jim discovers to his horror and our delight.
For most of its length, this admirably compact play is a rib-bustingly funny farce in which things go from very bad to far worse in nothing flat. Towards the end, though, Messrs. Kareken, Murrell and Farrell skillfully modulate into a darker key as Jim and his colleagues grapple with what it means for journalists to make stuff up…
Mr. Radcliffe's post-"Harry Potter" career is a vanishingly rare testament to how serious a grown-up child star can become if he has sufficient talent—and resolve. In addition to choosing offbeat, consistently interesting film roles, he's also turned himself into a stage actor of exceptional quality, one who is more than good enough to go up against Mr. Cannavale and Ms. Jones…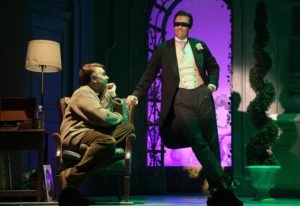 "The Drowsy Chaperone," one of the 21st century's best and funniest musicals to date, had a solid Broadway run (674 performances) but hasn't been seen there since it closed in 2007. Regional productions aren't as common as you'd expect, either: Goodspeed Musicals' new revival, directed by Hunter Foster, is the first time I've had a chance to see the show since I reviewed it more than a decade ago. Not only does it hold up, but Mr. Foster's marvelous staging adds further luster to his fast-growing reputation as a musical-comedy director whose work needs to be seen in New York….
Even for Goodspeed, which has an immaculate track record of artistic quality, "The Drowsy Chaperone" is noteworthy: The cast is unimprovable, the costumes gorgeous, and Chris Bailey's dances gleam with zip and zest….
* * *
To read my review of The Lifespan of a Fact, go here.
To read my review of The Drowsy Chaperone, go here.
The trailer for The Lifespan of a Fact:
The trailer for Goodspeed Musicals' revival of The Drowsy Chaperone:
A number from the original Broadway production of The Drowsy Chaperone, as performed by Bob Martin and Sutton Foster on the 2006 Tony Awards telecast: