In today's Wall Street Journal I review two closely related off-Broadway productions, Bedlam's Uncle Romeo Vanya Juliet and the Hunter Theater Project's Uncle Vanya. Here's an excerpt.
* * *
Bedlam's "Uncle Romeo Vanya Juliet," directed by Eric Tucker, billed as a "mash-up" of "Vanya" and "Romeo and Juliet" and performed by a five-person ensemble, is altogether startling. Ivo van Hove never did anything more radical to a classic—except that his I-know-better-than-the-author revivals are at all times smotheringly self-regarding, whereas Mr. Tucker's "Uncle Romeo Vanya Juliet," like even the most avant-garde of his shows, is both unpretentious and enormous fun.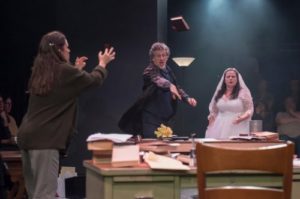 What Mr. Tucker has done to the two plays out of which "Uncle Romeo Vanya Juliet" has been cobbled together is easier to enjoy than it is to describe. Bits and pieces of "Vanya" and "Romeo" alternate without warning throughout the evening, juxtaposed in a way that is more than a little bit surrealistic…
A strong actor who doubles here as a member of his own ensemble, Mr. Tucker always casts his productions with the same imaginative flair that he brings to their staging. That said, he's brought off a coup by casting Zuzanna Szadkowski in the double role of Shakespeare's Juliet and Chekhov's Yelena. In a traditional "Romeo and Juliet," Ms. Szadkowski would likely have been cast to play Juliet's nurse. No doubt she'd do it well, too, but what she does here is flat-out astonishing: Her Juliet and Yelena, both of them sardonic and sexually knowing to a breathtaking degree, add up to the most thrilling performance by an actor previously unknown to me that I've seen on a New York stage since Nina Arianda made her professional debut…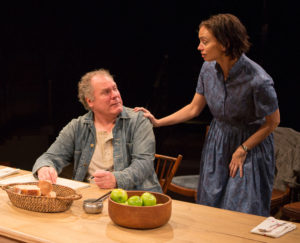 No less striking in its purposefully undemonstrative way, though, is the New York premiere of Richard Nelson's adaptation of "Uncle Vanya," the auspicious inaugural production of Hunter College's new Hunter Theater Project, in which professional productions are to be mounted under the aegis of the school's drama department. This tightened-up version (it runs for 105 intermission-free minutes) is performed in modern dress and modern English (Mr. Nelson, who is also the director, translated the play in collaboration with Richard Pevear and Larissa Vokokhonsky). The goal is to make "Vanya" more intimate and conversational, with 12 area mikes used to subtly boost the volume…
The results are successful in every way, so much so that I can wholeheartedly recommend this production to Chekhov novices and connoisseurs alike. "Vanya" is, after all, the quintessentially Russian story of a group of people who suddenly realize that they've frittered away their lives. Such terrible tales are best told in an understated way, and Mr. Nelson's actors hardly ever raise their voices, whether figuratively or literally. Instead, they let you listen in as they watch the sun set on their bleak little world….
* * *
Read the whole thing here.