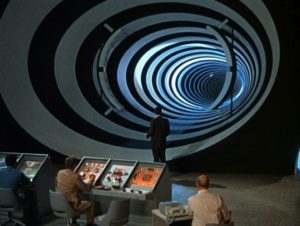 No journalist can afford to live solely in the past, least of all a drama critic, who by definition spends his nights seeing new shows and his days writing about them. Nor have I ever wanted to do so: it's always been important to me to stay connected to the present moment, which is one of the reasons why most of my friends are younger than I am. For the critic, nostalgia is dangerous stuff—it has a sneaky way of twisting your present-day perceptions—and so must be handled with the utmost care.
On the other hand, I'm a largely fortunate son who can't easily imagine not wanting to think about the past, for which reason I find it both delightful and convenient to be married to a woman who is almost exactly my age. I don't need to tell regular readers of this blog, though, that my beloved Mrs. T has just been through the wringer, so it won't surprise you to learn that I've been spending rather more time than usual engaged in private remembrance of things past, some trivial but all pleasing to think about.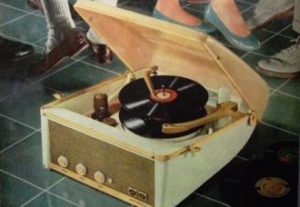 Among other things, I have total recall for any number of ephemeral pop songs of the Fifties of which my father bought records and to which I took a shine when I was seven or eight. In many cases, of course, "ephemeral" is putting it mildly. Why on earth should Nelson Riddle's Lisbon Antigua or Dean Martin's Memories Are Made of This be taking up space in my head next to "West End Blues" and Op. 111? Because I played them over and over again on the portable phonograph in my bedroom, and so burned them into my memory, where they remain to this day.
I find this especially irksome now that I've reached an age when it's normal to have trouble remembering names, something at which I used to be all but infallible. I had to work really hard last week to come up with Annette Bening's name, yet my memory is crammed full of easily accessed snippets of catchy TV commercial jingles from the Sixties, not a few of which turn into unwanted earworms with dismaying frequency. In the course of the past half-century, for instance, few months have gone by without my hearing in my head the Latin-flavored score that accompanied a commercial for a long-defunct brand of chewing gum called Cinnamint. As usual, I recall these fragments with near-perfect clarity, something that I can usually check by consulting YouTube, as I did on Saturday when I found myself humming the Cinnamint theme for the gazillionth time. Sure enough, my memory of the music was close to exact:
I've also been thinking about the vacations my family took each summer, a subject brought to mind by Richard Ratay's Don't Make Me Pull Over!: An Informal History of the Family Road Trip, a tender and funny book that I've been reading with great pleasure. Not surprisingly, Howard Johnson's figures prominently therein, in addition to which Bob Greene recently wrote a touching column for The Wall Street Journal about the orange-roofed restaurants that used to dot America's highways.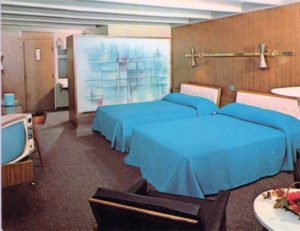 I mentioned on Twitter last week that Howard Johnson's was on my mind, and heard within seconds from the indefatigable Lileks, who sent me a link to a web page he put up a few years ago that is devoted to his own memories of the Howard Johnson's motel at which he and his family stayed on his first trip to Minneapolis in 1965. It was the first motel in which he'd ever stayed, and it was, he writes, "the coolest thing I'd ever seen," in part because its architecture and décor were so strongly influenced by midcentury modernism.
I like what he says about his room:
I've stayed in many modern hotels, but none as modern as this. Modern is easy these days. It's anything. This? This had no precedent. They had to make this up as they went along, creating a brand-new vernacular.
Strange indeed to think that for baby boomers like Lileks and me, the high modernism of our youth is now the stuff nostalgia is made of.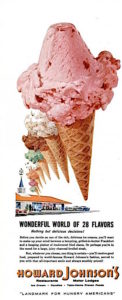 My father also favored Howard Johnson's, both for eating and for sleeping, and our family spent many a summer night under its orange roofs. I loved the food served in the restaurants as much as the ultra-modern décor of the guest rooms, though I was never very adventurous when it came to exploring the 28 delicious flavors of ice cream that were Hojo's trademark: I usually stuck to good old chocolate chip, and it never let me down.
I'm sure I wouldn't be as easily sated today by such offerings as the Grilled-in-Butter Frankforts and Boston Baked Beans with Brown Bread that thrilled me when I was eight years old. I expect more out of food than the iron consistency that made Howard Johnson's a byword a half-century ago. Wherever you went, you knew what you'd get and how it would taste. That was, however, the whole point of going—and for a child, I suspect that it was also part of the fun. Perhaps I already sensed that adults must spend their lives making choices, and that they very often are forced to choose between variously unsatisfactory alternatives. I have no doubt that part of what I miss about being a small boy was that my parents did the choosing, thereby relieving me of the responsibility for getting it right the first time. As I wrote in this space a few years ago:
I wouldn't dream of denying that I miss the world of my youth, or that I think about it fairly often, perhaps more often than I should….What I really miss, I suppose, is the sheer simplicity of childhood, that precious time when other people make the decisions and all you have to do is be.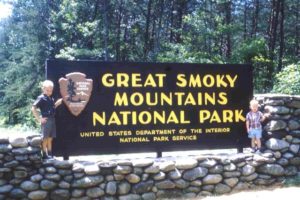 Speaking of vacations, my brother just sent me a package of goodies from the Ole Smoky Candy Kitchen, a compulsory stop whenever my family vacationed in Gatlinburg, Tennessee. David and his wife continue to go there, but it's been eleven long years since I was last in Gatlinburg. He knows how much I miss the old place—as well as the blissful family vacations for which it stands—and so he sends me a box of taffy whenever he and Kathy are in Gatlinburg. It is a comforting ritual, one of the many ways in which he and I like to remind each other of the joy we've shared through the years.
"Nostalgia is incommunicable," I wrote in this space the last time I was in Gatlinburg. "Try as we might, we cannot share it with those who stand outside the magic circle of common memories." What an uncovenanted blessing it is, then, to have such memories—as well as loved ones with whom to share them. That's the right kind of nostalgia, the kind that has the power to heighten the savor of even the happiest of lives.
* * *
Dean Martin sings "Memories Are Made of This" in an undated 1955 TV performance. He is accompanied by Terry Gilkyson, Richard Dehr, and Frank Miller, who wrote the song:
A 1962 TV commercial for Howard Johnson's restaurants: