In today's Wall Street Journal I review Classic Stage Company's off-Broadway revival of Bertolt Brecht's The Resistible Rise of Arturo Ui. Here's an excerpt.
* * *
You needn't believe in historical inevitability to have predicted that the election of Donald Trump would lead in short order to a New York revival of "The Resistible Rise of Arturo Ui." Bertolt Brecht's 1941 satire, in which Adolf Hitler becomes a Depression-era Chicago gangster who is out to corner the local cauliflower trade by hook, crook or tommy gun, has a way of getting produced whenever the White House happens to be occupied by a president who rings the gong of backstage outrage. "If we're not screaming and shouting now, when are we ever going to do it?" asks John Doyle, the director of Classic Stage Company's new production….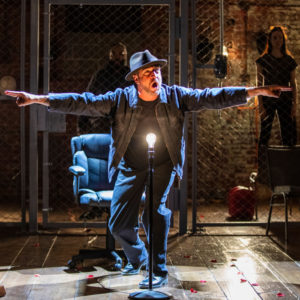 As fine an artist as Mr. Doyle is, and as excited as I was by the prospect of seeing Raúl Esparza in the title role, I was more than a little bit apprehensive about this production going in. "Arturo Ui," after all, isn't one of Brecht's masterpieces—its satire is too cartoonish—and I've seen a fair number of shows in recent months whose claims to artistic seriousness were undercut by the willingness of their makers to stoop to over-obvious anti-Trump pandering. But Mr. Doyle mostly avoids blatant point-making, instead giving us an electrifyingly coarse and colloquial show into which Mr. Esparza's complex performance fits with surprising neatness….
Not only is the action of the play, which unfolds in a fluorescent-lit warehouse, grotesquely comic in tone, but Mr. Esparza turns Ui-Hitler into a figure of fun (his whiny, nasal voice reminded me of Jerry Lewis). At the same time, though, he also plays the dictator as a man given to startling outbursts of self-pity and doubt, a quality remarked on by many people who knew Hitler personally…
* * *
Read the whole thing here.