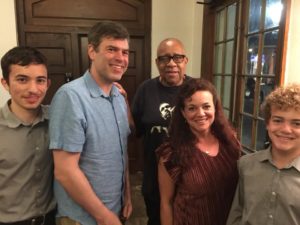 I mentioned in this space the other day that Satchmo at the Waldorf is currently being performed down in New Orleans. A friend sent me a photo taken after Saturday's show in which Barry Shabaka Henley, the star of this and two previous productions of Satchmo, is seen chatting with a group of audience members. They were, my friend said, members of the Karnofsky family. As I looked at their happy faces, my eyes filled with tears.
If you've seen Satchmo or read Pops, my Armstrong biography, I expect that name will ring a bell. Among other things, the Karnofskys figure prominently in one of my favorite scenes from Satchmo:
Here, now, looka this.

He reaches into his shirt and pulls out a Star of David hanging on a pendant around his neck.

Star of David. Jewish star. Mr. Glaser, he done give it to me. (As if revealing a secret) He Jewish, you know. I wear it every day cause the Jews, they been so good to me. Maybe that's why I trusted Mr. Glaser.

Down in New Orleans there was this Jewish family, the Karnofskys. They was junk peddlers done come over from Russia. I worked for them when I was seven years old. Did odd jobs. And they didn't treat me like no butler or nothing. Pat me on my head, tell me I'm a good boy, treat me warm and kind. Like family. Use to sit at they table like I was one of they own. Eat that good Jewish food, teach me them pretty Jewish songs….

We'd bring the junk wagon in and they'd say, "Little Louis, you worked hard today, gonna be too late for you to get your supper when you get home, so you just sit right down here and eat with us."

A pause.

They even loaned me the money to buy my first horn. Beat-up little cornet down at the pawn shop. Thought it was the prettiest thing I ever saw.
Back in 2009, shortly after Pops was published, I met a Karnofsky at my first book-tour appearance in Boston, and was deeply touched by the encounter. Nevertheless, it means even more to me—more than mere words can begin to say—to know that another group of Karnofskys saw Satchmo at the Waldorf in Armstrong's home town (and that other family members will be seeing the show later in the run). I like to think that Satchmo himself would have been touched to learn that the descendants of the Jewish immigrants who treated him "like family" more than a century ago continue to revere his blessed memory, as he did theirs to the very end of his long and beautiful life.
* * *
To see rare period photographs of the Karnofskys and read a piece by Alan Smason about their relationship with Louis Armstrong, go here.
Armstrong and the All Stars perform Irving Berlin's "Russian Lullaby" in 1950. The band includes Cozy Cole on drums:
Armstrong and the All Stars perform "Basin Street Blues" on The Bell Telephone Hour in 1964: