In today's Wall Street Journal I review the first Broadway production of Kenneth Lonergan's The Waverly Gallery and the U.S. premiere of Jez Butterworth's The Ferryman. Here's an excerpt.
* * *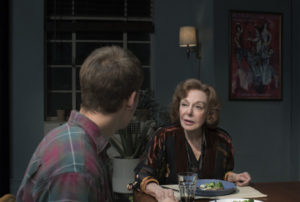 Broadway has caught up with Kenneth Lonergan, America's greatest living dramatist, who has now had three of his six full-length plays produced there in the past four seasons, all of them masterly and all satisfyingly well-mounted. "The Waverly Gallery," first performed in 1999, is an autobiographical memory play narrated by a young man whose grandmother suffers from dementia. It is a harrowingly honest group portrait of the havoc wrought by that disease, not only on those who have it but on those who love them, and this revival, directed with uncommon grace by Lila Neugebauer, is a close-to-ideal enactment of what might just be Mr. Lonergan's most gripping stage play to date—which is saying something.
The family portrayed in "The Waverly Gallery" is a gaggle of what one of its members tartly describes as "liberal Upper West Side atheistic Jewish intellectuals." Gladys (Elaine May), the matriarch, runs an art gallery that went to seed when her memory started to crumble. By now she is keeping it open just to have something to do all day, with her daughter (Joan Allen), son-in-law (David Cromer) and grandson (Lucas Hedges) doing all that they can to look after her, a task well on the way to becoming impossible…
Ms. May is not, of course, a stage actor—my guess is that she's being miked—but her lack of experience in that specialized capacity doesn't stop her from giving a performance that blends bewilderment with courage in a way that is beautifully, heartbreakingly right….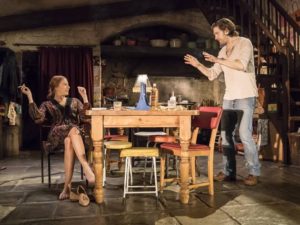 "The Ferryman," Jez Butterworth's new play, which has transferred to Broadway after a successful London run, is a kind of Irish counterpart of "August: Osage County," a three-and-a-quarter-hour study of a close-knit rural family that is being pulled apart, in this case by the poisonous effects of political fanaticism. Largely devoid of the self-regarding pretentiousness that made his previous plays unwatchable, it builds to an explosively potent surprise ending whose force is diminished by the fact that it takes Mr. Butterworth most of the garrulous first act to finally get down to dramatic business….
* * *
To read my review of The Waverly Gallery, go here.
To read my review of The Ferryman, go here.
Scenes from the original 2000 off-Broadway production of The Waverly Gallery, starring Eileen Heckart and directed by Scott Ellis:
Scenes from the Broadway transfer of The Ferryman: