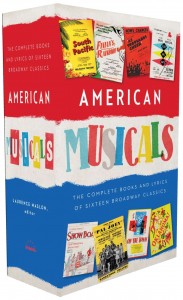 Apropos of my rave Wall Street Journal review of Hamilton, I have an essay about American Musicals, the Library of America's new two-volume anthology of musical-comedy libretti, in the latest issue of the Weekly Standard:
What is America's greatest contribution to the arts? Time was when many, perhaps most, people would have pointed to the Broadway musical as the likeliest candidate for admission to the pantheon. Theatergoers around the world have long rejoiced in the delights of the genre, including some whom one might well have thought too snobbish to admit its excellence. (Evelyn Waugh, who had next to no use for anything made in America, saw the London production of Cole Porter's Kiss Me, Kate a half-dozen times, pronouncing it, according to one biographer, "ingenious and admirable.") But big-budget musical comedy has been in increasingly steep decline since the 1970s, and 10 long years have gone by since The 25th Annual Putnam County Spelling Bee, the last homegrown musical to be wholeheartedly embraced by audiences and critics alike, made it to Broadway.

Since then, we've seen a parade of what I call "commodity musicals," the slavishly literal throwaway stage versions of hit movies that now dominate Broadway, as well as a number of highly imaginative small-scale musicals that, to date, have failed to draw large-scale crowds. But the old-fashioned school of Oklahoma! family musical appears to be all but gone for good, killed off by the disintegration of the common culture that made it possible in the first place. Now that Broadway-minded songwriters no longer have a universal musical language on which to draw, it isn't possible to write a show with genuine broad-gauge audience appeal. It says everything about the desperate state of the American musical that the last theatrical song to become an enduringly popular hit, Stephen Sondheim's "Send in the Clowns," was written in 1973.

That's what makes the publication of American Musicals so timely. These two volumes contain the unabridged scripts of 16 "classic" shows written between 1927 and 1969, the period now usually regarded as the "golden age" of the Broadway musical. The table of contents is itself a capsule history of the genre at its peak: Show Boat (1927), As Thousands Cheer (1933), Pal Joey (1940), Oklahoma! (1943), On the Town (1944), Finian's Rainbow (1947), Kiss Me, Kate (1948), South Pacific (1949), Guys and Dolls (1950), The Pajama Game (1954), My Fair Lady (1956), Gypsy (1959), A Funny Thing Happened on the Way to the Forum (1962), Fiddler on the Roof (1964), Cabaret (1966), and 1776 (1969). Unlike their successors, these shows have retained their popularity. Twelve have returned to Broadway in the past decade, and two are playing there as I write. If there is a core musical-comedy repertory, this is it….
Read the whole thing here.