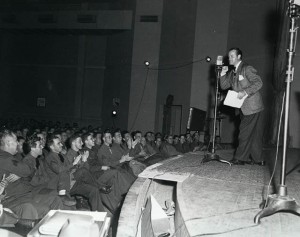 The February issue of Commentary, which is now available on line, contains an essay by me on Bob Hope, occasioned by Richard Zoglin's recently published biography of the comedian, who died in 2003 at the age of 100 and is now largely forgotten:
Reading Hope: Entertainer of the Century, one comes away with the suspicion that Zoglin felt obliged to inflate Hope's place in American culture in order to persuade a younger generation of book editors to consider publishing a 576-page biography of a forgotten star. And while Hope offers an impressively detailed depiction of Hope's life and work, it turns out that he was, like so many other entertainers, less interesting as a human being than as a performer. Moreover, nothing that Zoglin tells us about Hope's private life is in any way revealing. It was an open secret that he was a compulsive philanderer, and none of his lovers seem to have gone on the record about their relationships with him. Beyond that, he was by most accounts a dull, opaque man who came alive only in front of an audience or a camera.

Nevertheless, Hope is of real value as a chronicle of a career. For even though Bob Hope's work is no longer capable of holding the attention of modern audiences, it is still interesting to learn the details of how he turned himself into a star and then managed to stay on top of the mass-culture heap long after most of his less-driven contemporaries had vanished from sight. But Zoglin, for all his admirable thoroughness, inexplicably fails to emphasize the central fact about Hope and his career—one that not only goes a long way toward explaining why he was so successful, but also why we no longer find him funny.

Simply: He wasn't Jewish….
Read the whole thing here.
* * *
"Issue No. 48" of Army-Navy Screen Magazine, a biweekly newsreel produced by the U.S. Signal Corps between 1943 and 1946. This 1944 episode is a pictorial version of Command Performance, a World War II radio show that was produced for and distributed to American troops. The master of ceremonies for this broadcast was Bob Hope: