In today's Wall Street Journal drama column, I weigh in on a first-class Florida revival of one of David Mamet's best plays, Maltz Jupiter's Glengarry Glen Ross.
I also reprint parts of my original Journal reviews of two important shows that have just been remounted in New York: Robert Falls' Chicago production of Eugene O'Neill's The Iceman Cometh, starring Nathan Lane, and the off-Broadway premiere of Stephen Adly Guirgis' Between Riverside and Crazy, starring Stephen McKinley Henderson.
Here's an excerpt.
* * *
In New York and Chicago, David Mamet's name is a draw. In much of the rest of the country, it's an in-your-face challenge. Yes, Mr. Mamet is now generally (and rightly) regarded as one of America's greatest playwrights, but many playgoers stubbornly persist in remaining ill at ease with his obscenity-encrusted portrayals of American life as a bloody war of all against all. That's what brought me to Florida's Maltz Jupiter Theatre, a suburban company best known for its top-flight musical-comedy revivals, to see Mr. Mamet's "Glengarry Glen Ross," a Pulitzer-winning play that takes the darkest possible view of human nature. How, I wondered, would it go over at a theater whose other offerings this season are "Fiddler on the Roof," "The Foreigner," "Les Misérables" and "The Wiz"?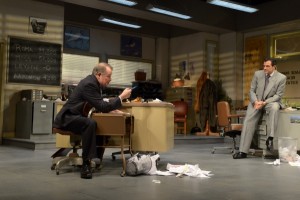 The management clearly shared my concerns, since the program contains the following full-page warning: THIS PRODUCTION CONTAINS STRONG PROFANITY THROUGHOUT. But that hasn't stopped Maltz Jupiter from delivering the goods: J. Barry Lewis' exhilaratingly full-blooded staging is paced to perfection—each and every F-bomb hits its target—and gratifyingly well cast….
Mr. Falls' "Iceman" would be worth seeing even if it were merely adequate. It is, in fact, extraordinary, a totally successful staging of a formidably difficult play in which Mr. Lane gives a performance that will stay with you for as long as you live….
Mr. Guirgis has a firm grasp of the endless complexity of human motivation, and he always knows when to pull another rabbit out of his hat, just as he knows how to write dialogue that sounds as if he'd heard it in the street….Mr. Henderson, who spends most of the play sitting in a wheelchair, acts with such seeming effortlessness that you'll have to look twice—maybe even three times—to catch him stealing every scene….
* * *
To read my review of Glengarry Glen Ross, go here.
To read my original 2012 review of The Iceman Cometh, go here.
To read my original 2014 review of Between Riverside and Crazy, go here.
The climactic scene of James Foley's 1992 film version of Glengarry Glen Ross, featuring Jack Lemmon and Kevin Spacey: