Mrs. T and I are thinking about adding another piece to the Teachout Museum, a lithograph by Romare Bearden, an artist whose work we both love, enough so that I'm surprised we've never before discussed the possibility of buying one of his prints. (Bearden is best remembered for his collages, but he was also a highly accomplished printmaker.) Though we already have a particular piece in mind, this isn't something that we'll do casually. Any art purchase, however modest the price, is by definition a big deal for us, and so we're prepared to spend a considerable amount of time looking for just the right piece.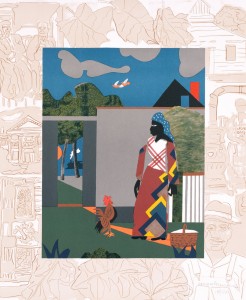 Needless to say, it's a lot easier to collect art if you're rich, but I doubt that it's more fun. In fact, I suspect that the necessity to pinch our pennies may well enhance the pleasure that Mrs. T and I get out of spending them on a work of art. I spent several years tracking down an affordable copy of the Childe Hassam lithotint that we acquired last fall, but it was worth the wait, and then some.
When I tweeted about all this last week, Aaron Haspel, a Twitter-based aphorist, responded as follows: "Taste is quality divided by expense. Limited means provide unlimited opportunity to show it." I can't put it any better than that. If you can afford to buy whatever you want whenever you want it, you're a lot more likely to pull the trigger casually, and your purchases may not be as reflective of such taste as you have. Mrs. T and I can't afford to do that. Whenever we buy and hang a piece of art in our New York apartment, it's because we love it enough to make a financial sacrifice in order to have the pleasure of looking at it every day, and everything we purchase is a direct reflection of our deepest aesthetic values. We believe in our shared tastes.
It remains to be seen whether Romare Bearden will join the roster of artists for whom we're willing to make such a sacrifice. If he does, though, you can be sure that we'll both feel confident that we did the right thing.