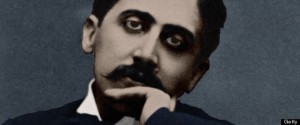 The so-called Proust Questionnaire circulates in a variety of more or less authentic versions. I filled it out years ago, but can't recall my answers, so here are some new ones. I've tweaked the questions (and added some new ones) to suit my liking more precisely. As always, all answers are subject to revision at will and without warning.
Here goes:
• Your favorite virtue? Valor. All others pale beside it.
• Your favorite qualities in a man? Kindness.
• Your favorite qualities in a woman? Ditto.
• Your chief characteristic? Determination—and, I hope, fairness.
• What do you appreciate the most in your friends? Patience.
• Your main fault? Impatience.
• For what fault have you the most toleration? Loquaciousness (it being another one of my own).
• Your favorite occupation? Writing—but when I'm engaged in it, I'm not conscious of enjoying myself.
• Your idea of happiness? Rehearsing a show.
• Your idea of misery? Sitting through any opera by Philip Glass.
• If not yourself, whom would you be? But now that I've found you/I've changed my point of view/And now I wouldn't give a dime to be/Anyone else but me.
• Where would you like to live? Florida's Sanibel Island.
• Your favorite color and flower? Ochre and orchids.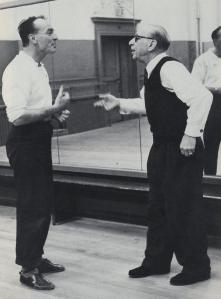 • The artist of any kind whom you admire most? George Balanchine.
• Your favorite prose authors? Kingsley Amis, the Boswell of the Life of Johnson, Colette, Edwin Denby, M.F.K. Fisher, Justice Holmes, A.J. Liebling, John P. Marquand, Somerset Maugham, Flannery O'Connor, Anthony Powell, Dawn Powell, I.B. Singer, Trollope, Evelyn Waugh. For entertainment: Patrick O'Brian, Rex Stout, Donald Westlake, P.G. Wodehouse.
• Your favorite poets? Anna Akhmatova, Emily Dickinson, Robert Frost, Thomas Hardy, Philip Larkin, Shakespeare, W.B. Yeats.
• Your favorite plays? Arcadia, The Cherry Orchard, Dancing at Lughnasa, Galileo, The Glass Menagerie, King Lear, Our Town, Private Fears in Public Places, Side Man, The Tempest, The Trip to Bountiful, Waiting for Godot.
• Your favorite operas? Carmen, Falstaff, The Marriage of Figaro, The Turn of the Screw, Wozzeck.
• Your favorite musicals? The Fantasticks, Guys and Dolls, On the Town, She Loves Me, Sweeney Todd.
• Your favorite films? Chinatown, Citizen Kane, Defending Your Life, Groundhog Day, His Girl Friday, The In-Laws, The Last Days of Disco, The Searchers, The Rules of the Game, You Can Count on Me.
• Your favorite male character in fiction? Hugh Moreland in Anthony Powell's A Dance to the Music of Time.
• Your favorite female character? Vicky Haven in Dawn Powell's A Time to Be Born.
• Your favorite painters and classical composers? Painters: Bonnard, Cézanne, Chardin, Diebenkorn, Helen Frankenthaler, Jacob Lawrence, Manet, Matisse, John Marin, Giorgio Morandi, Fairfield Porter, Mark Rothko. Composers: Bartók, Britten, Chabrier, Copland, Fauré, Haydn, Paul Moravec (no fooling), Schubert, Shostakovich, Stravinsky.
• Your favorite popular songwriters? Harold Arlen, Walter Becker and Donald Fagen, Willie Dixon, Bob Dylan, Harlan Howard, Antonio Carlos Jobim, Carolyn Leigh, Erin McKeown, Johnny Mercer, Robbie Robertson, Stephen Sondheim, and whoever wrote "You so beautiful but you got to die someday."
• Your heroes in real life? Louis Armstrong, Adolf Busch, Churchill, Dr. Johnson, Lincoln, Solzhenitsyn.
• What characters in history do you most dislike? Hitler, John Rankin, Stalin, Robespierre.
• Your favorite food and drink? The Yucatan shrimp at Doc Ford's on Sanibel Island, accompanied by iced tea with plenty of fresh mint and lime.
• Your favorite names? Emily, Julia, Laura.
• What do you hate the most? Any species of ideology, secular or religious, that issues in mass murder.
• The natural talent with which you'd most like to be gifted? I wish that I could play piano like Nat Cole and/or dance like Fred Astaire.
• How do you wish to die? With sufficient presence of mind to mutter "So here it is at last, the distinguished thing!"
• What is your present state of mind? Distracted and somewhat anxious.
• Your favorite motto? "If there's no alternative, there's no problem."
* * *
Nat King Cole and His Trio play "Route 66":