In today's Wall Street Journal drama column I review a very interesting Florida show, the Westcoast Black Theater Troupe's revival of Charles Smith's Knock Me a Kiss. Here's an excerpt.
* * *
It is an untruth universally acknowledged that America has no class system. In fact, we have lots of class systems, none of which is more complex—or less openly discussed—than that of the black community. Such untold tales make for exciting theater, but I haven't seen a play that dared to put America's black upper class onstage since Lydia R. Diamond's "Stick Fly" came to Broadway in 2011. So it was a real pleasure for me to make the belated acquaintance of "Knock Me a Kiss," a history play currently being performed by Florida's Westcoast Black Theatre Troupe in which Charles Smith uses the failed marriage of Yolande Du Bois as the occasion for a satirical yet sympathetic study of life among the well-to-do blacks of Harlem in the Jazz Age.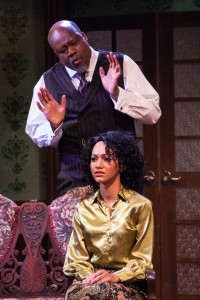 Since W.E.B. Du Bois, Yolande's father and one of the play's central characters, is no longer as widely known as he deserves to be, it's worth saying a few preliminary words about him. Born in 1868, the author of "The Souls of Black Folk" was a sociologist turned civil-rights activist who believed that the salvation of his race would be secured by the rise of a classically educated elite that he dubbed the "Talented Tenth." Naturally, Du Bois counted himself among the upper crust, so he was horrified when his daughter fell for Jimmie Lunceford, who would soon become a world-famous bandleader but in 1928 was still an obscure musician whose family came from nowhere in particular. Accordingly, Du Bois muscled in on their romance, insisting that she instead marry Countee Cullen, the Harlem Renaissance poet. That's a full-bore plot right there—and what makes it even more interesting is that Cullen, though neither Du Bois nor Yolande seems to have known it prior to the marriage, was almost certainly gay….
First performed in Chicago in 2000, "Knock Me a Kiss" has since made the regional rounds, and even had a brief off-Broadway run five years ago, with André De Shields playing Du Bois. I didn't catch that well-reviewed production, but I can't imagine that it was more impressive than this one, directed by Chuck Smith (no relation to the playwright), who previously staged the Chicago and New York premieres of "Knock Me a Kiss." The six-person cast is tightly knit, with Emerald Rose Sullivan giving a fiery, smartly paced performance as Yolande….
* * *
Read the whole thing here.
Jimmie Lunceford and His Orchestra perform "Knock Me a Kiss" in 1942. The vocal is by Willie Smith: