Like everyone I know who works or has ever worked in the news business, I've been following the Brian Williams story with the closest possible attention. I don't know, however, that I have anything to add to what we already know: Williams repeatedly lied about his wartime experiences in Iraq in 2003, and did so in a particularly shameful way. That's about the size of it.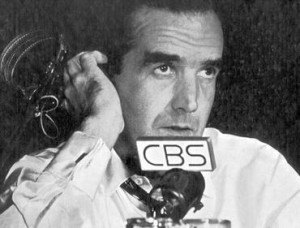 On the other hand, it does strike me that it might be worth drawing your attention to one of the most celebrated radio newscasts to come out of World War II. On December 3, 1943, Edward R. Murrow, broadcasting live from London on CBS, described for his American listeners how it felt to hitch a ride on D for Dog, a Royal Air Force bomber that had attacked Berlin the preceding night. It's also worth pointing out something that may not be self-evident to many modern-day readers, which is that Murrow personally wrote every word of that broadcast.
This is part of what he said:
The clouds below us were white, and we were black. D-Dog seemed like a black bug on a white sheet. The flak began coming up, but none of it close. We were still a long way from Berlin. I didn't realize just how far. Jock observed, "There's a kite on fire dead ahead." It was a great, golden, slow-moving meteor slanting toward the earth. By this time we were about thirty miles from our target area in Berlin. That thirty miles was the longest flight I have ever made.

Dead on time, Buzz the bomb-aimer reported, "Target indicators going down." At the same moment, the sky ahead was lit up by bright yellow flares. Off to starboard another kite went down in flames. The flares were sprouting all over the sky, reds and greens and yellows, and we were flying straight for the center of the fireworks. D-Dog seemed to be standing still, the four propellers thrashing the air, but we didn't seem to be closing in. The clouds had cleared, and off to the starboard a Lanc was caught by at least fourteen searchlight beams. We could see him twist and turn and finally break out. But still, the whole thing had a quality of unreality about it. No one seemed to be shooting at us, but it was getting lighter all the time. Suddenly, a tremendous big blob of yellow light appeared dead ahead; another to the right and another to the left. We were flying straight for them.

Jock pointed out to me the dummy fires and flares to right and left, but we kept going in. Dead ahead there was a whole chain of red flares looking like stoplights. Another Lanc was coned on our starboard beam. The lights seemed to be supporting it. Again we could see those little bubbles of colored lead driving at it from two sides. The German fighters were at him. And then, with no warning at all, D-Dog was filled with an unhealthy white light.

I was standing just behind Jock and could see all the seams on the wings. His quiet Scots voice beat into my ears, "Steady lads, we've been coned." His slender body lifted half out of the seat as he jammed the control column forward and to the left. We were going down. Jock was wearing woolen gloves with the fingers cut off. I could see his fingernails turn white as he gripped the wheel. And then I was on my knees, flat on the deck, for he had whipped the Dog back into a climbing turn. The knees should have been strong enough to support me, but they weren't, and the stomach seemed in some danger of letting me down too….
That's what real journalism—and real courage—sound like.
* * *
An aircheck of Murrow's actual 1943 broadcast:
To read the complete text of the broadcast, go here.
To learn more about the broadcast and its historical context, go here.
* * *
The Memphis Belle: A Story of a Flying Fortress, William Wyler's 1944 War Department documentary about an Army Air Force bomber and its crew. The combat footage seen in this film was shot by Wyler and other cameramen during actual air battles over enemy territory: