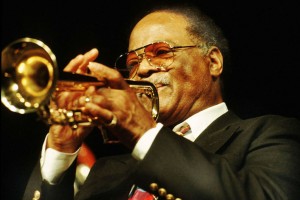 Clark Terry, the great jazz trumpeter and flugelhornist, has died at the age of ninety-four after a long and cruelly debilitating illness.
Terry was the last important soloist to join Duke Ellington's band, and his admiring recollections of his old boss, which he set down at length in his highly readable 2001 memoir and which figure prominently in my own Ellington biography, were pungent, vivid, and completely believable. "Duke," he wrote, "was endowed with a supernatural magic that opened doors and carried him along highways and hallways, through cracks and crevices. He could cuss you out and rarely use a cuss word. He'd chastise you from the piano by playing a discord and everybody knew what was going on."
Like Ellington, Terry himself was charming and much loved. He, too, had a strong personality, though he never sought or wanted to rival the flamboyant eccentricities of his senior colleagues in the Ellington band. This is what I wrote about him in Duke:
Not long after the Great James Robbery, Ellington hired another stalwart individualist, this one poached from Count Basie's trumpet section. Born in St. Louis in 1920, Clark Terry was, unlike most of Ellington's older players, conversant with the new musical language of bebop. As personally disciplined as he was musically inventive, he was a superlative addition to the roster, though Ellington did not always use him to optimum effect, in part because Terry was reluctant to co-compose with him. Understanding as he did the financial implications of splitting his publishing rights with bandleaders or selling tunes to them outright, he had no wish to cut Ellington in on his royalties. Even so, Terry admired the man and his music unreservedly and remained on board until 1959, and throughout that time his witty solos and secure ensemble work were highlights of the band's performances and recordings….
Once Terry struck out on his own, he quickly established himself as one of the most distinctive trumpeters of his generation. He played under many flags, most notably (in my opinion) in a hard-swinging quintet whose front line he shared with my old friend Bob Brookmeyer. He also distinguished himself as a genial and encouraging jazz educator, and it was in the latter capacity that I met him when he came to play with my college jazz band in 1978. This youthful encounter was one of the reasons why I became a professional jazz musician.
Terry recorded prolifically, both as a leader and a sideman, and all of his records are worth hearing, these two in particular.
One by one our idols fall away, leaving us alone at last with the hopes and dreams that they unknowingly inspired. Farewell, Mr. Terry. I'm glad I met you once upon a time.
* * *
Peter Keepnews' New York Times obituary is here.
The Clark Terry Quintet with Bob Brookmeyer (as the group was billed) is featured on a 1965 episode of the British TV series Jazz 625: