Not to put too fine a point on it, but my Wednesday was brutal. It started in Manhattan, where I got up at five-thirty, took a cab to LaGuardia, flew back down to Orlando, spent a few hasty minutes with Mrs. T, then hit the road again, this time for a two-and-a-half-hour drive through rush-hour Florida traffic to see a production of West Side Story in Vero Beach (about which more in Friday's Wall Street Journal, assuming that I don't collapse from exhaustion before filing my review).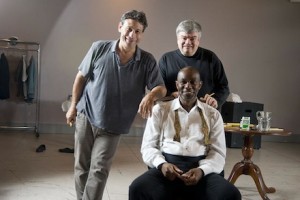 I drove all the way back to our hotel after the show and checked my e-mail at half past midnight, at which point things finally started looking up. It seems that today's San Francisco Chronicle contains a story about American Conservatory Theatre's newly announced 2015-16 season in which (drum roll) John Douglas Thompson and I figure prominently.
Here's how it starts:
Will Eno's unusual Broadway hit, world premieres by Philip Kan Gotanda and Sean San José and acclaimed New York actor John Douglas Thompson portraying both Louis Armstrong and Miles Davis highlight the five plays of the 2015-16 American Conservatory Theater subscription season announced this week.

A Eugene O'Neill classic and a new blues and gospel musical are also on the roster, as is ACT's annual nonsubscription holiday offering of "A Christmas Carol." The remaining plays in the regular season will be announced at a later date, along with the order in which the plays will be presented.

Magic Theatre Artistic Director Loretta Greco returns to ACT to direct the innovative Eno's 2014 Broadway debut, "The Realistic Jones," a tale about new neighboring couples, both named Jones, that has been described as a sitcom situation seen through surrealistic lenses. Thompson garnered raves in the solo "Satchmo at the Waldorf," a biodrama by theater critic Terry Teachout in which Thompson plays the title role and a host of other characters, executing a heated exchange between jazz titans Armstrong and Davis….
A.C.T. is, of course, one of America's top regional theater companies—the last show I saw there was a 2012 revival of Samuel Beckett's Endgame starring Bill Irwin—so this production is quite a coup for John, Satchmo, and me.
No dates yet—I'll let you know when I know.
Read the whole thing here.