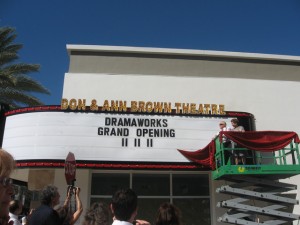 San Francisco's American Conservatory Theatre announced yesterday that it will be producing Satchmo at the Waldorf, my first play, as part of its 2015-16 mainstage season. Now comes word from Florida that Palm Beach Dramaworks will also be doing Satchmo next year. It is part of a season that I think can fairly be described as ambitious.
According to the press release:
The season gets underway at the Don & Ann Brown Theatre on October 9 with Picnic by William Inge, recipient of the Pulitzer Prize for Drama in 1953. Next up, beginning December 4, is Alan Bennett's The History Boys, which won the 2005 Olivier Award for Best New Play and the 2006 Tony Award for Best Play. The third production, opening January 29, is Eugene O'Neill's Long Day's Journey Into Night, which received the 1957 Pulitzer Prize for Drama and the 1957 Tony Award for Best Play. O'Neill, who died in 1953, finished writing the play in 1942, but did not want it published until after his death. The season continues on March 25 with Outside Mullingar by John Patrick Shanley, which played a limited engagement on Broadway to great acclaim in 2014. The final offering of the season, beginning May 13, is Terry Teachout's Satchmo at the Waldorf, which has received accolades in various cities around the country including New York, where it had an off-Broadway run in 2014.
That's quite a lineup!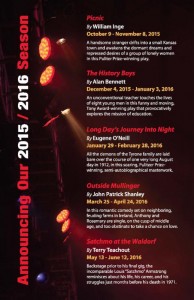 Further details are still in the offing, but the mere fact of the announcement is hugely exciting to me, since PBD is one of my very favorite regional theater companies, one that I've been reviewing enthusiastically for the past six years.
As I wrote in 2011 apropos of its production of Mark St. Germain's Freud's Last Session:
This is my third visit in the past three seasons to Palm Beach Dramaworks, where I previously saw Eugène Ionesco's "The Chairs" and Michael Frayn's "Copenhagen," two demanding small-cast plays that the company performed with identical intelligence and brio in front of packed houses. Anyone who supposes that Palm Beach is the exclusive property of rich airheads with great tans would appear to be all wet.
I am honored beyond words that so distinguished a company should have chosen to produce my play.
* * *
To read the complete press release, go here.