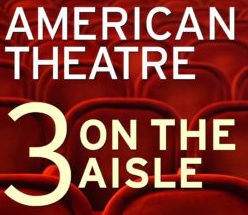 The twentieth episode of Three on the Aisle, the twice-monthly podcast in which Peter Marks, Elisabeth Vincentelli, and I talk about theater in America, is now available on line for listening or downloading.
Here's an excerpt from American Theatre's "official" summary of the proceedings:
This week [the panelists] celebrate a happy first birthday—or, as Terry says incredulously in this episode, "Have we really been doing this for a year?" Yes, they have! To celebrate the show's one-year anniversary, our hosts take on a favorite punching bag of theatre criticism: the jukebox musical. Is it pure populism or can it be brilliant? Or both? They discuss that in relation to a new Bob Dylan jukebox musical currently playing at the Public Theater, Girl from the North Country (it made two of our critics cry!).

Then the critics discuss another recurring theatrical theme: the British invasion of the American theatre. Girl from the North Country originated in London, and so did The Nap, The Ferryman, and others currently running and still set to open on Broadway….

This episode closes with a tally of shows the critics love and want you to see…
To listen, download the latest episode, read more about it, or subscribe to Three on the Aisle, go here.
In case you missed any previous episodes, you'll find them all here.