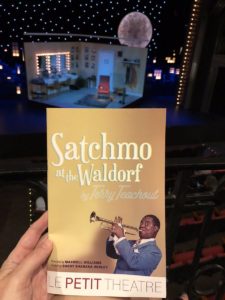 I've been too preoccupied of late to mention it here, but Satchmo at the Waldorf opened last week at New Orleans' Le Petit Theatre in a brand-new production directed by Maxwell Williams and starring Barry Shabaka Henley, who previously appeared in Satchmo at Chicago's Court Theatre and Palm Beach Dramaworks. I first worked with Shabaka in Chicago and directed him in Palm Beach, and on both occasions I was dazzled and delighted by his performance of the demanding triple role of Louis Armstrong, Joe Glaser, and Miles Davis.
It hardly seems possible that this is the seventeenth production of Satchmo at the Waldorf to be mounted to date. This isn't the first time that it's been performed in Louisiana—Satchmo was seen in Baton Rouge last September—but it means a lot to me that my play about New Orleans' most famous son should finally be receiving a production in his home town. Regular readers of this blog will know why I'm up north instead of down in the land of dreams, but a little piece of my heart is with Shabaka and his colleagues.
Satchmo runs at Le Petit Theatre through October 21. To purchase tickets or for more information, go here.
* * *
To read the New Orleans Times-Picayune's review of Le Petit Theatre's production of Satchmo at the Waldorf, go here.
To read Broadway World's review, go here.
The trailer for Le Petit Theatre's production: