In today's Wall Street Journal drama column, I review the American premiere of Conor McPherson's Girl from the North Country. Here's an excerpt.
* * *
Conor McPherson is Ireland's greatest living playwright, give or take Martin McDonagh. Bob Dylan is Bob Dylan. On paper they look like the oddest of couples, but the notion of Mr. McPherson's writing a jukebox musical based on Mr. Dylan's songs is just crazy enough to be brilliant.
"Girl from the North Country," which has transferred to the Public Theater after successful runs at London's Old Vic and in the West End, is a musical as powerful and unsettling as any of Mr. McPherson's plays. It adds a rich new layer of meaning to the songs, some familiar ("I Want You") and others obscure ("Slow Train"), that he has woven into its theatrical fabric. It won't send you home happy—it's not meant to—and the results are far from perfect. But the show's flaws are as forgivable as its originality is profound…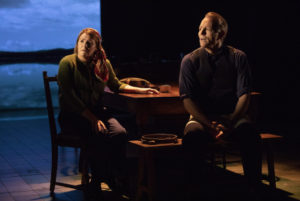 "Girl from the North Country" is an "Our Town"-like group portrait of the tenants of a Depression-era boarding house in Duluth, Minnesota, Mr. Dylan's birthplace (though no other obvious reference is made to the songwriter's life). The dozen-odd characters have all been wounded in ways that no New Deal could ever hope to heal, above all Elizabeth (Mare Winningham), the wife of the boarding-house proprietor (Stephen Bogardus), who appears to be suffering from dementia but soon proves to be Mr. McPherson's Shakespearean fool. She utters his bleakest truths with the absolute conviction that only terrible suffering can supply…
Mr. McPherson has made no attempt to choose songs that fit neatly into his dramatic scheme, the customary modus operandi of the jukebox musical. Instead, he's followed the lead of Stephen Sondheim and George Furth in "Company," a series of related but mostly free-standing sketches about a group of friends in which the songs typically comment on the sketches instead of propelling the dramatic action of the show….
What Mr. McPherson does with Mr. Dylan's songs is infallibly right. I'm not so sure, though, about the way that the songs themselves are sung and played by the cast and onstage band. While some of the actors, Ms. Winningham and Luba Mason in particular, sing with an appropriately raw edge, most of the others sound too smoothly theatrical…
* * *
Read the whole thing here.
The trailer for the London production of Girl from the North Country: