Recently in elsewhere Category
Mossa Bildner, an indefatigable vocalist and
performance artist
, is the subject of today's
"The Neediest Cases" column
in the New York Times, because having suffered as a freelancer from the economic downturn, she's been facing eviction. "This could happen to anybody," she told the newspaper, and though asking for help "was a strange position to find myself in . . I didn't feel ashamed."
About
Holiday gift picks

more
Jazz Beyond Jazz
What if there's more to jazz than you suppose? What if jazz demolishes suppositions and breaks all bounds? What if jazz - and the jazz beyond, behind, under and around jazz - could enrich your life?
more
(FTC) Disclosure
more
#jazzlives
tweet who/where when YOU hear **LIVE** jazz
more
Miles Ornette Cecil: Jazz Beyond Jazz






I'll be speaking:



I'm on Facebook



Follow Jazz Beyond Jazz on Twitter
more
Subscribe in a reader
more
Howard Mandel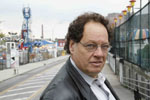 I'm a Chicago-born and New York-based writer, editor, author, arts producer for National Public Radio -- for more than 30 years, a freelance arts journalist working on newspapers, magazines and websites, appearing on tv and radio, teaching at New York University and elsewhere. I'm president of the
Jazz Journalists Association
.
more
Contact me
Click here to send me an email...
more
Blogroll