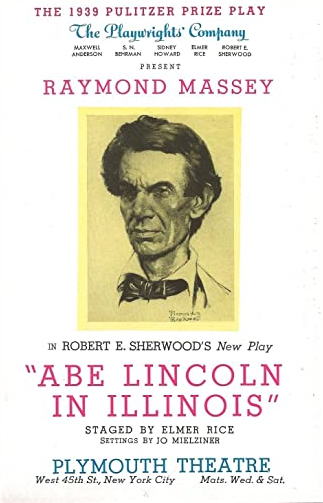 With America's theaters shuttered, I plan to devote some of my upcoming Wall Street Journal drama columns to screen versions of important stage plays of the past. I'm starting off with John Cromwell's 1940 adaptation of Robert Sherwood's Abe Lincoln in Illinois. Here's an excerpt.
* * *
Time was when Broadway's hits were routinely converted by Hollywood into big-budget films. As often as not, though, the shows were recast and "adapted" within an inch or two of their lives, at times to unintentionally comic effect. (There's a reason why TCM hardly ever shows Irving Rapper's 1950 film version of Tennessee Williams' "The Glass Menagerie," to which a ludicrously happy ending was tacked on by the studio.) On occasion, though, the screen versions bore far more than a passing resemblance to the plays on which they were based, especially when some of the stars and supporting players from the original stage casts reprised their roles for the camera. Even when their performances seem overprojected and awkwardly "stagy," the films in which they appear still give us precious glimpses, however flawed, of the evanescent phenomenon that is great stage acting…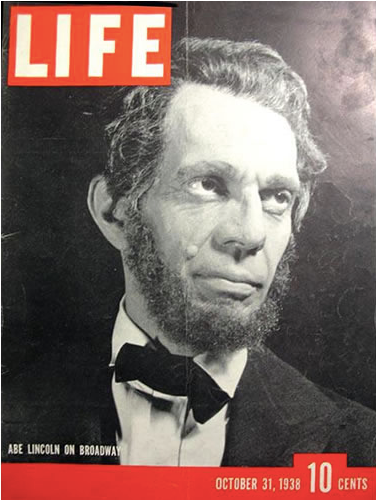 One such film is "Abe Lincoln in Illinois," John Cromwell's 1940 screen version of the Pulitzer-winning 1938 play in which Robert E. Sherwood, writing at a not-dissimilar moment of high national anxiety, put on the stage a doubt-ridden Abraham Lincoln with whom war-fearing theatergoers could identify—played by Raymond Massey, whose performance was so powerful that he would be identified with Lincoln for the rest of his life….
Sherwood adapted his own play for the screen, opening it up with outdoor scenes and shrewdly trimming the earnest speechifying that makes the original stage version read at times more like a pageant than a drama. As a result, his brilliant condensation of the Lincoln-Douglas debates into a single 10-minute scene stands out in high relief. It is in this scene, perfectly staged by Cromwell, that you get the clearest sense of what Massey's stage performance must have been like, and why it inspired Brooks Atkinson of the New York Times to call it "an exalted performance…he plays [the part] with an artless honesty that is completely overwhelming at the end."…
* * *
Read the whole thing
here
.
From Abe Lincoln in Illinois, the Lincoln-Douglas debate scene: