What are New Yorkers missing now that Broadway is closed? In this week's Wall Street Journal "Sightings" column, I consider what great art—theatrical and otherwise—does for us in times of trial. Here's an excerpt.
* * *
How does a New York drama critic spend his Friday nights when Broadway's theaters are closed up tight? I don't know about my colleagues, but I curled up on the couch with my laptop last week and watched a live performance in Akron, Ohio, of Shakespeare's "Love's Labour's Lost."
Like most of America's theater companies, Rubber City Theatre has since been shut down in the hope of containing the spread of the coronavirus, so it decided to live-stream via Facebook the final performance of its current production as a gesture of solidarity with everyone who knows how vital great art is in times of trial….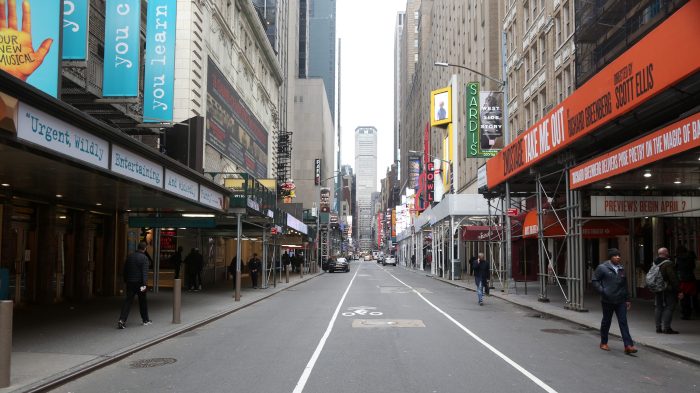 To be sure, the technical quality of the one-camera webcast was primitive—the picture was fuzzy and there was no "camerawork" whatsoever. But that didn't matter in the least: The play came through clearly, and that was all that mattered. Kelly Elliott's modern-dress staging was satisfyingly simple and lively, and the handful of loyal audience members sprinkled throughout the company's small auditorium were audibly pleased by the results. So was I, and I found myself asking as I watched: What am I getting out of this experience? Why am I so moved? Exactly what do masterpieces have to say to us at moments like these?
In Shakespeare's case, the answer is easy enough. Even in a self-consciously artificial comedy like "Love's Labour's Lost," there are moments of immediacy that reach across the centuries (and through the screen of your viewing device, whatever it may be) and make you sit bolt upright, stunned by their prescience. In my case, it was these lines spoken by Lord Berowne, one of King Ferdinand's noble companions, that rang the bell of recognition: "To move wild laughter in the throat of death?/It cannot be; it is impossible:/Mirth cannot move a soul in agony." For of course it ispossible, which explains why we most need the balm of comedy when the roof of the world seems to be crumbling over our heads.
But while the escapism of comedy is essential to a healthy life, we need more than mere laughter to thrive, as W.H. Auden reminded us when he penned these wise words: "There must always be two kinds of art, escape-art, for man needs escape as he needs food and deep sleep, and parable-art, that art which shall teach man to unlearn hatred and learn love."…
As I reflect on the three dozen Broadway productions that no one will see until further notice, I can't help but wonder: Which ones would have passed muster with Auden? What spiritual sustenance would they have afforded their now-homebound audiences?…
* * *
Read the whole thing
here
.
Tracy Letts and Francis Guinan in a scene from Steppenwolf Theatre Company's 2009 Chicago revival of David Mamet's American Buffalo, directed by Amy Morton:
In an excerpt from D.A. Pennebaker's Original Cast Album: Company, Dean Jones sings Stephen Sondheim's "Being Alive" at the recording sessions for the original 1970 Broadway production of Company: