In today's
Wall Street Journal
I review the off-Broadway premieres of new stage versions of
Dracula
and
Frankenstein
. Here's an excerpt.
* * *
Ever since Hollywood put Bram Stoker's "Dracula" and Mary Shelley's "Frankenstein" in front of the cameras in 1931, the two great novelistic monsters of the 19th century have been yoked in the public mind. Now Classic Stage Company is producing newly written adaptations of both novels that have little in common save for their modest scale but nonetheless make for a natural, nicely contrasted pairing.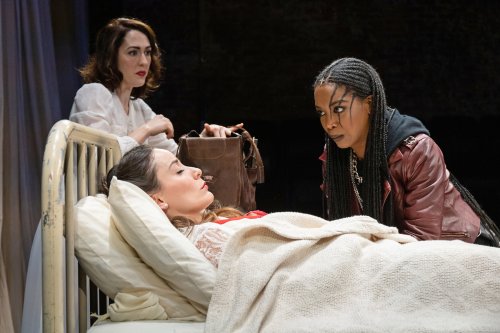 Kate Hamill's "Dracula," like her widely performed versions of "Little Women," "Pride and Prejudice," "Sense and Sensibility" and "Vanity Fair," takes a beloved 19th-century novel and turns it into a crisply wrought play with a good-sized cast (nine actors) and a feminist slant (the title page describes it as "a bit of a feminist revenge fantasy, really"). Conversely, Tristan Bernays' "Frankenstein" is a miniaturization of the 1818 novel in which the parts are divided up between two actors, Stephanie Berry and Rob Morrison….
Here as in her previous plays, Ms. Hamill's explicitly feminist perspective helps to put a fresh, theatrically potent spin on the novel. Among other things, she herself plays Renfield, Dracula's creepy, blood-lusty acolyte, with Jessica Francis Dukes cast as Van Helsing, the take-no-guff-from-men vampire slayer ("You were expecting a withered old Dutch man?") who spends the evening hunting down the title character (Matthew Amendt). This Dracula is pointedly described in the script as a "toxic predator," a timely piece of characterization and one that Mr. Amendt brings to life—so to speak—with lip-smacking relish. (He reminded me at times of George Hamilton's wonderfully funny Dracula in the 1979 film "Love at First Bite.") While the show's dead-serious premise is that all men are capable under the right circumstances of succumbing to the ever-present temptation to mistreat women, Ms. Hamill has plenty of fun proving her point…
Mr. Bernays' "Frankenstein" is a tidy piece of storytelling, very well staged by Mr. Douglas, that does a surprisingly good job in its 80-minute span of suggesting the old-fashioned essence of Ms. Shelley's novel. (I especially like the way in which both novel and play present Frankenstein's monster as a genteel fellow whose glum utterances are sprinkled with such quaint usages as "withal.") Would that the acting were more in keeping with the tone of the script, but Ms. Berry and Mr. Douglas both give naturalistic, unmistakably American performances, whereas Mr. Bernay's approach to "Frankenstein" cries out for something larger than life….
* * *
Read the whole thing
here
.
A video featurette about Dracula: