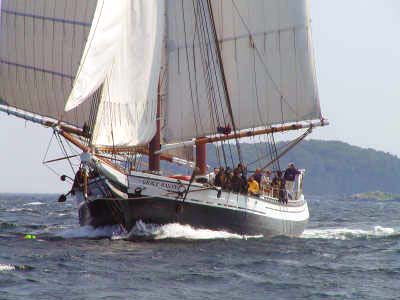 On Thursday Mrs. T and I drove from Connecticut to Camden, Maine, and spent the weekend on a windjammer.
Schooner Grace Bailey is a 123-foot-long cargo ship that once sailed the high seas and now carries tourists on trips to nowhere in particular. It was declared a national historic landmark in 1992, at which time the following "statement of significance" was issued by the National Park Service:
A coasting schooner, GRACE BAILEY was constructed in 1882 to carry lumber from southern ports to Patchogue, Maine. In the late-19th and early 20th centuries, two-masted coasting schooners were the most common American vessel, carrying freight along the Pacific, Atlantic, and Gulf coasts, and on the Great Lakes. In 1939, she became part of the fleet of windjammers created by Frank Swift; for most of the time since then, she has seen continuous service as a "dude boat."
What possessed a landlubber like me to set sail on such a vessel? Cherchez la femme. My wife confessed to me some months ago that she had long dreamed of going on a windjammer cruise, so I decided to make her dream come true. Like her, I'm a passionate fan of Patrick O'Brian's sea stories, but that was the whole of my paltry stock of marine-related knowledge, so I started Googling, and a few minutes later I arrived at the Web site of the Grace Bailey. I liked the look of the boat and the sound of the owners, and one of the summer cruises fit more or less neatly into my playgoing schedule. I took a deep breath and booked a cabin for two.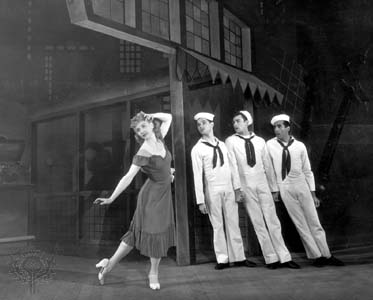 The result of my feckless gamble was a blissful weekend–though it didn't start out that way. The rain in Maine falls mainly when you want to be out of doors, and it was descending with a vengeance as Mrs. T and I showed up at Camden Harbor with bags in hand and sickly smiles on our faces. One of the hands showed us to our cabin, which was small, dark, and severe. We exchanged a furtive look that said What have we gotten ourselves into? By then, though, it was too late to back out, so we resolved to make the best of it.
I won't try to tell you that things started looking up as soon as we cast off–it was already pretty damned cold and soon got worse–but J.R., the captain of the Grace Bailey, did manage to get us in the mood, first by introducing his fifteen soggy passengers to one another and then by pressing us into service as unskilled hands. In my case "unskilled" is putting it mildly, but even I can clap onto a line and pull, and I was already feeling hopeful again by the time the mainsail was hoisted. "Every time I say 'Two, six,' you pull on the rope and yell 'Heave!'" said Kristi, the first mate. It was all I could do to keep from replying, "I remember that from The Thirteen-Gun Salute!" Instead I shut up and heaved, and before long the sails were aloft and we were underway.
Hard experience has taught the captain and crew of the Grace Bailey how to gird the loins of their customers against inclement weather. Instead of letting us sit around feeling sorry for ourselves, they filled us full of lobster, steak, corn on the cob, and Caesar salad, all of it perfectly prepared and incredibly tasty. Mrs. T and I both admitted to feeling halfway optimistic by the time we staggered down the hatch to our bunks.
The sun came out before breakfast, and from then on we were home free. We spent the whole of Saturday talking, eating, napping, sunning ourselves on the deck, and sailing around Penobscot Bay. By lunchtime we'd gotten to know most of our fellow passengers, all of whom proved to be excellent companions, and once J.R. brought out a guitar and started picking away at "I Am a Pilgrim," the atmosphere on deck grew as warm as the cast-iron wood stove in the galley below.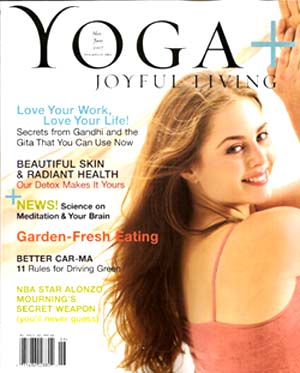 Part of what makes the Grace Bailey so tight a ship is the sheer niceness of its crew, most of whom are as interested in the arts as they are in sailing. No sooner did I mention to Alison, the cook, that I was a drama critic than she started quizzing me about what Shakespeare & Company was up to this season. As for Kristi, she's a triple threat–musical-comedy actress, modern dancer, and yoga instructor. (She was featured on the cover of a recent issue of Yoga + Joyful Living.) I offered to accompany her on the battered upright piano in the saloon, and we managed to get through "If I Were a Bell," which she sang gorgeously and I played…well, acceptably. Mrs. T put in a couple of hours chopping garlic in the galley (she likes to help out in the kitchen) and hung out with Santiago and Bowen, the second and third mates, whom she later described to me as "hot."
The bay was shrouded in fog on Sunday morning, so J.R. brought us into Camden Harbor inch by cautious inch. The town emerged abruptly from the mist, and a few minutes later Mrs. T and I were standing on the dock once more, exchanging hugs and e-mail addresses with our new friends. Then we drove down Highway 1 to Portland, ate a fancy dinner at Five Fifty-Five, and checked into the Pomegranate Inn, an elegant bed-and-breakfast that doubles as an art gallery. Our second-floor room was bright, airy, had a private bath, and was eight times the size of our cabin on the Grace Bailey.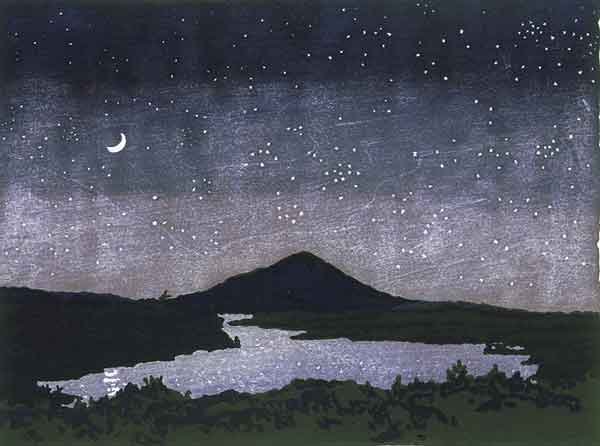 We were, needless to say, more than happy to sleep at the Pomegranate Inn, for Mrs. T and I are both spoiled city dwellers who like our creature comforts too well to venture very far from the beaten path. Still, I expect it will be a long time before either one of us forgets what it feels like to stand on the quarter-deck of a two-masted schooner and look up at the Big Dipper, smelling the sharp salt air and marveling at the commonplace magic of a cool, clear August night spent on the moonlit waters of Maine.