In today's
Wall Street Journal
drama column, which appears in the paper's online edition, I review an important off-Broadway revival of
Juno and the Paycock
. Here's an excerpt.
* * *
With the opening of "Juno and the Paycock," the Irish Repertory Theatre has put in place two of the three central panels in its "O'Casey Season." In case you haven't heard, New York's best off-Broadway theater troupe is celebrating its 30thanniversary by presenting staged productions in rotating repertory of all three plays in Seán O'Casey's "Dublin Trilogy" (along with concert-style readings of his 17 other plays). "The Shadow of a Gunman," the first installment of the trilogy, opened last month to awe-inspiring effect. Now the Irish Rep has gotten around to "Juno," a modern masterpiece that was last seen there six years ago in a breathtakingly fine revival starring J. Smith-Cameron and staged by Charlotte Moore, the company's artistic director. "I doubt that 'Juno' will receive a more eloquent or sympathetic production in my lifetime," I wrote in 2013. I was right, too. This new revival, directed by Neil Pepe, is no better than its predecessor—but it's every bit as good.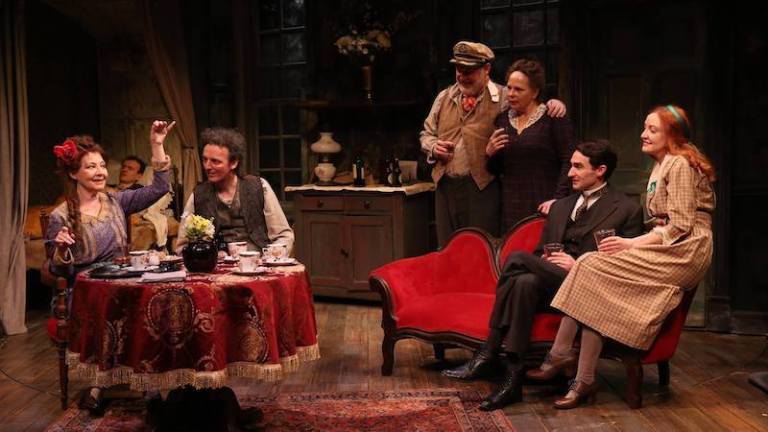 First performed in 1924, "Juno" is, like "Shadow," a domestic tragicomedy set in Dublin at a time when Ireland was cloven by political violence. The title characters are Jack (Ciarán O'Reilly), a lazy, jobless braggart whose family and friends call him "the Paycock" (i.e., peacock) because of his windy vanity, and Juno (Maryann Plunkett), his long-suffering wife, whose hope-starved life is upended when Jack receives an unexpected inheritance from an estranged cousin. This being a Seán O'Casey play, you know at once that no possible good can come of the money, and even though the immediate results of the bequest are uproariously farcical, what happens at evening's end to Juno, her loud-mouthed husband and their two hapless children (Ed Malone and Sarah Street) is terrible almost beyond belief.
Jack has the flashiest part, and Mr. O'Reilly, who also played him in 2013, nails it, strutting from scene to scene and chasing his modest potbelly around the stage as if it were the drum major of a marching band. Nevertheless, it is the actor who plays Juno on whose stooped shoulders rests the ultimate success of any revival of "Juno and the Paycock," and Ms. Plunkett, like Ms. Smith-Cameron before her, is more than equal to the challenge. Her performance is strikingly subdued—she never raises her voice, not even once—but the effects of prolonged disappointment are etched so deeply on her features that she needn't say a word to win your sympathy….
* * *
Read the whole thing
here
.
A featurette about the Irish Rep's revival of Juno and the Paycock: