In today's
Wall Street Journal
drama column, I review two off-Broadway shows,
Marys Seacole
and
Merrily We Roll Along
. Here's an excerpt.
* * *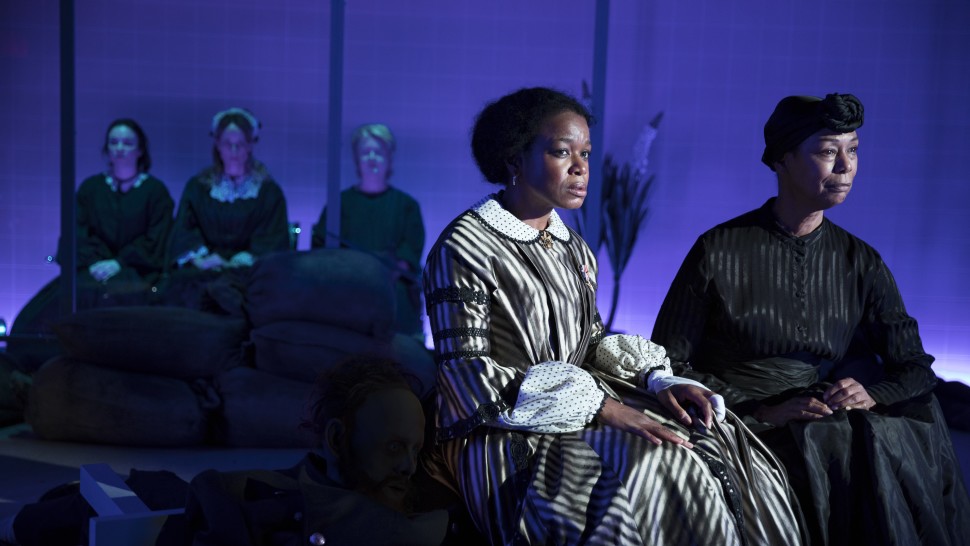 It shouldn't be all that surprising, demographics being what they are, that the subject of caregiving is becoming increasingly prominent in American theater. Since more and more of us are either getting or giving care, it stands to reason that we should be interested in seeing so central a part of our lives played out onstage. The latest example of this heightened interest is "Marys Seacole," in which Jackie Sibblies Drury, an up-and-coming but no longer young writer (she is 37) whose work is nonetheless new to me, tells the improbable yet true story of a saintly, no-nonsense 19th-century nurse who, born in Jamaica in 1805, made her circuitous way to Ukraine, where she worked with Florence Nightingale in the Crimean War. In Ms. Drury's extensively fictionalized, magically realistic play, Mary (played by Quincy Tyler Bernstine) becomes a symbol of the spirit of caregiving who is reincarnated time and again….
If all this sounds too earnest for words, fear not: Ms. Drury dramatizes the successive phases of Mary Seacole's life with pith and vigor, aided by the equally resourceful staging of Lileana Blain-Cruz, another newish face on the New York theater scene who made an appropriate splash with her recent Signature Theatre revival of Lynn Nottage's "Fabulation, or the Re-Education of Undine." "Marys Seacole" might have been a bit hard to follow in less capable directorial hands, but Ms. Blain-Cruz makes all the rough places plain…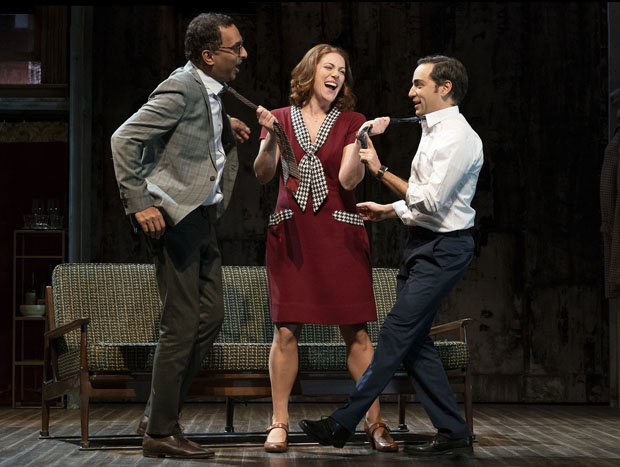 "Merrily We Roll Along," whose original Broadway production closed after just 16 performances, used to be one of Stephen Sondheim's problem children. No more: After years of tinkering, Mr. Sondheim and George Furth, who wrote the book, came up with a fully stageworthy version of their ill-fated tale of a pair of musical-comedy collaborators whose partnership, forged in youthful idealism, goes sour after they ring the box-office gong. The gimmick—and the show's underlying problem—is that the story is told in reverse. While "Merrily" didn't work in 1981, Maria Friedman's 2017 Huntington Theatre Company revival of the show was successful in every way, and it should have transferred from Boston to Broadway. Instead, the Roundabout Theatre Company has collaborated with Fiasco Theater on a small-scale off-Broadway version of "Merrily" that is well-meaning and not without merit but in no way comparable in quality to Ms. Friedman's superlative staging.
This version, directed by Noah Brody, has been cut to an hour and 45 intermission-free minutes and is performed on a deliberately cluttered unit set by a cast of six men and women who between them play all of the parts in the show that have survived Mr. Brody's trimming (the original production had 27). The overall approach sounds very much like that of Bedlam, Eric Tucker's prodigiously imaginative off-Broadway troupe. Would that it were more so, but Mr. Brody's production shrinks "Merrily" without doing so in a way that simultaneously illuminates the show's twisty dramaturgical complexities…
* * *
To read my review of
Marys Seacole
, go
here
. To read my review of
Merrily We Roll Along
, go
here
.
The trailer for Marys Seacole:
The trailer for Merrily We Roll Along: