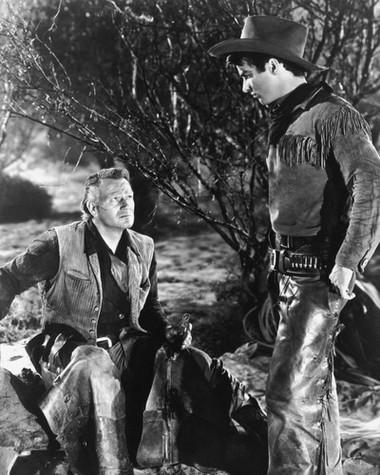 Two new magazine pieces by me have been published in the past few days. One of them, my latest monthly essay for Commentary, is about Western movies:
Stagecoach set the tone for Western filmmaking from 1939 to the end of World War II….While some screen villains were not without a certain rough charm, there was no room for ambiguity among the larger-than-life protagonists who vanquished them. This one-sidedness would have caused the Western to exhaust itself as a genre had it not been for the same postwar sea change in audience attitudes that was also responsible for the simultaneous emergence of film noir. World War II veterans who saw combat were deeply unsettled by the experience, and many of them were thus drawn to films that took a darker, more realistic view of the world. Not coincidentally, most of the best Westerns to come out after the war—including Howard Hawks's Red River (1948, starring John Wayne and Montgomery Clift), Anthony Mann's Winchester '73 (1950, starring James Stewart), and Budd Boetticher's Seven Men from Now (1956, starring Randolph Scott)—partook of this darker vision….
Read the whole thing
here
.
I also contributed to a National Review symposium on personal libraries:
Manhattan apartment contains a thousand-odd books, but I don't think of them as a "library." Unwealthy New Yorkers can't afford homes large enough to amass libraries, and while degenerate city collectors keep books in the oven, I've never been reduced to that pitiful extremity. Indeed, I got rid of half of my books when, some 20 years ago, I moved to a much smaller apartment. I'd decided to collect art, which meant that I'd need wall space to hang it. I spent a whole day pitching volumes I'd thought I loved, and felt freer when I was done….
Read the whole thing
here
.