In today's
Wall Street Journal
"Sightings" column, I discuss a
new book
about one of the world's most important film-music composers. Here's an excerpt.
* * *
Which classical violinist has been heard by the largest number of people? Was it Jascha Heifetz? Itzhak Perlman? I'd put my money on…Louis Kaufman. Don't be surprised if you've never heard of him, though. He's best remembered not for his immaculate performances of the concertos of Vivaldi (he cut one of the very first records of "The Four Seasons") but for his day job: Mr. Kaufman, who died in 1994, was one of golden-age Hollywood's top studio musicians. Not only did he play the sweet-toned violin solos that Max Steiner wrote for the soundtrack of "Gone With the Wind," but he also served as concertmaster for the house orchestras that recorded such film scores as Hugo Friedhofer's "The Best Years of Our Lives," Erich Wolfgang Korngold's "Adventures of Robin Hood," David Raksin's "Laura" and Franz Waxman's "Sunset Boulevard."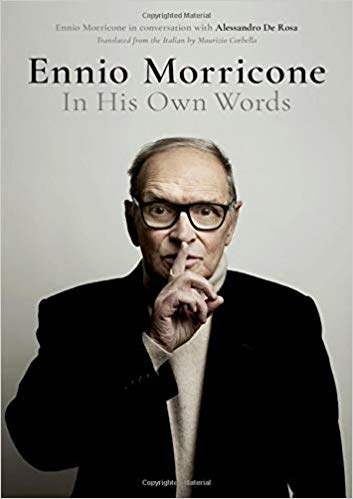 Kaufman's playing, like that of countless other hugely talented artisans whose destiny it was to labor off camera, is known to millions of moviegoers who have never heard his name. The same thing, alas, is true of any number of major film composers who work out of sight and for the most part out of mind. Fortunately, a few of them have won the recognition they deserve. Take Ennio Morricone, the subject of "Ennio Morricone: In His Own Words" (Oxford), a newly published collection of interviews with the phenomenally prolific 90-year-old Italian composer who has scored more than 400 films and TV shows to date, among them "Cinema Paradiso," "The Hateful Eight," "In the Line of Fire," "The Mission," "Once Upon a Time in the West" and "The Untouchables." Mr. Morricone is one of the few Europe-based film composers to be at all widely known in the U.S., in part because he's worked on a number of Hollywood hits. The list of his celebrated fans, which includes Quincy Jones, Yo-Yo Ma, Pat Metheny and Bruce Springsteen, is almost as long as the list of movies he's scored.
If you're looking for a gossipy memoir, go elsewhere. "In His Own Words" presupposes a fair amount of musical knowledge going in, and it also assumes that you'll know a lot about the many Italian movies that Mr. Morricone has scored. But read it with patience and respect and you'll learn plenty about the subtle craft of film scoring and the career of one of its most eminent practitioners….

* * *
Read the whole thing
here
.
Excerpts from a 2004 concert in which Ennio Morricone led the Münchner Rundfunkorchester in excerpts from his film scores: