In today's
Wall Street Journal
I review the Broadway revival of Tennessee Williams'
The Rose Tattoo
. Here's an excerpt.
* * *
Were a visitor from another planet to spend a few seasons visiting Broadway, he could be forgiven for assuming that Tennessee Williams wrote only three plays, "The Glass Menagerie," "A Streetcar Named Desire" and "Cat on a Hot Tin Roof." Not since 1996 have any of Williams' other major plays been staged there. Of course there's a good reason for this, which is that many of his other plays are flawed beyond repair. But even some of the successful ones are rarely seen. The original 1951 production of "The Rose Tattoo," for example, had a solid Broadway run—306 performances—and was also filmed four years later. Nevertheless, it has only been revived there twice, in 1966 and 1995.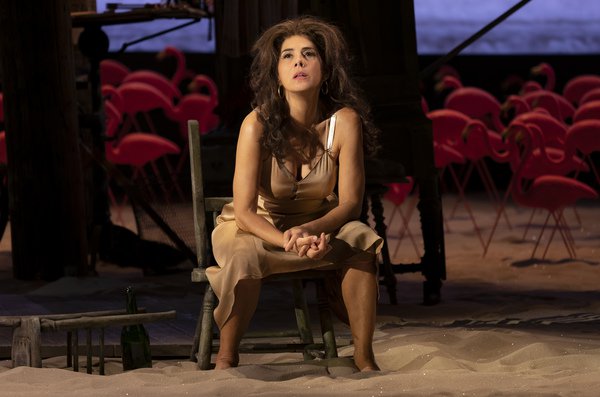 Why has "The Rose Tattoo" dropped out of sight? One obvious reason is that it requires a huge cast. The 1951 production fielded 23 actors, and even though Trip Cullman's new Roundabout Theatre Company revival, which stars Marisa Tomei, has trimmed that budget-busting figure down to 18, it's still ruinously costly to mount. That said, my guess is that the real reason why we no longer see much of "The Rose Tattoo" has to do with the play itself, which is tricky to bring off and which Mr. Cullman has not managed to make fully palatable for contemporary audiences.
One aspect of "The Rose Tattoo" that makes it so awkward to revive is that it's part comedy and part drama, an attempt by Williams to translate his favorite theme, the need for everyone to have more and better sex, into farce-flavored terms….
It's easy to see how such a situation could be played for laughs. Where Mr. Cullman's revival goes astray is that it does so too broadly….
* * *
The version of this review that appears in today's print edition is somewhat shorter than the original, which appeared on line on Wednesday. Read the whole thing
here
.
Marisa Tomei talks about The Rose Tattoo: