In today's
Wall Street Journal
I review an important New York opening, the Irish Repertory Theatre's off-Broadway revival of Conor McPherson's
Dublin Carol
. Here's an excerpt.
* * *
Conor McPherson, like so many Irish playwrights, has a knack for writing complex, involving dramatic monologues, as well as a taste for dark tales in which alcohol and its misuses figure prominently. Put these inclinations together and you get "Dublin Carol," a seasonally themed three-hander (it takes place, like Mr. McPherson's "The Seafarer," on Christmas Eve) in which most of the talking is done by a middle-aged mortician's assistant with a weakness for booze whose life has come to naught.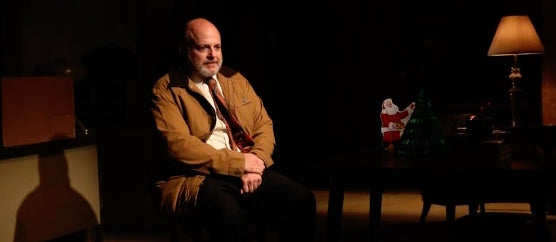 First performed in 2000 at London's Royal Court Theatre, "Dublin Carol" has had two major U.S. stagings to date, at New York's Atlantic Theater Company in 2003 and Chicago's Steppenwolf Theatre Company in 2008. Now, though, it has come home (so to speak) to the Irish Repertory Theatre, whose matchlessly intimate 148-seat mainstage auditorium is the best of all possible spaces in which to watch great performances up close. Jeffrey Bean, supported by Cillian Hegarty and Sarah Street and directed by Ciarán O'Reilly with his usual discreet self-assurance, is giving such a performance…
Mr. Bean tells his tale with the shattered dignity of a man who is clinging to the walls of an abyss. The fact that you are so physically close to the stage permits him to perform in so soft-spoken a way that the impact of his description of what it feels like to be a drunk sneaks up on you, then explodes in your face…
* * *
Read the whole thing
here
.
The trailer for Dublin Carol: