Due to an unusually large number of Broadway openings this fall, I'm filing two drama columns for
The Wall Street Journal
this week. In today's paper, I review the Broadway transfer of
Slave Play
. Here's an excerpt.
* * *
When a new play by an unknown playwright is universally described as "controversial" yet meets with near-universal critical acclaim…well, it's not controversial. In fact, there's a better-than-even chance that it's telling its audiences exactly what they want to hear. Witness Jeremy O. Harris' "Slave Play," directed by Robert O'Hara, which has now moved to Broadway after a noisily successful 2018 off-Broadway run….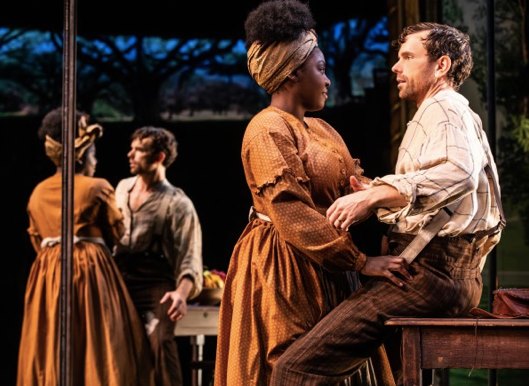 Since there's no way to review "Slave Play" without giving away its "reveal," be forewarned that the following paragraph contains a spoiler: "Slave Play" opens with three interlocking scenes that seem to show whites having sex with their black slaves. In fact, what we're really seeing are role-playing sessions by three present-day interracial couples who are undergoing "Antebellum Sexual Performance Therapy," in which they act out elaborate fantasies of sex with slaves in order to overcome their difficulties in the bedroom (a twist that you'll almost certainly guess on your own, as I did). Then we watch them participate in a group-therapy session during which it emerges that the whites are all ludicrously earnest "whitesplaining" left-liberal types who cannot begin to fathom why their long-suffering black partners would dream of finding fault with them….
This is, or could have been, fertile material for a take-no-prisoners satire in the manner of Lydia R. Diamond's superlative "Smart People." But while Mr. Harris does manage to work in a passable number of sharp-elbowed satirical digs along the way, the first two acts feel more like a short-hitting comedy sketch than anything else….
* * *
Read the whole thing
here
.