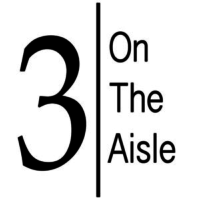 The thirty-eighth episode of Three on the Aisle, the (usually) twice-monthly podcast in which Peter Marks, Elisabeth Vincentelli, and I talk about theater in America, is now available on line for listening or downloading.
As was the case last month, only two of us were on hand this time: Peter Marks took a nasty fall on the morning of the taping and did painful damage to one of his knees, forcing Elisabeth and me to forge ahead without him. And while we already had a guest, Adam Feldman of Time Out New York, set for the episode, we had some trouble with Adam's segment as well: I taped my end of the show in Connecticut, and it seemed that because of a glitch in the control board of our New York studio, we could only record two people at the same time! So Elisabeth and Adam shared the mike for his segment, while she and I handled the rest of the show. To our collective delight and relief, things went well anyway, and we plan to have Adam back later this season on a day when the gremlins are at rest.
In the meantime, here's American Theatre's "official" summary of the proceedings:
This week, Peter is out, but Elisabeth and Terry are joined by Adam Feldman of Time Out New York to discuss American Theatre's annual list of the most-produced plays in the country. Terry and Elizabeth also go through the mailbag and answer questions from listeners, and talk about recent shows they've seen, some good and some… not so good.
To listen to or download this episode, read more about it, or subscribe to
Three on the Aisle,
go
here
.
In case you've missed any previous episodes, you'll find them all here.