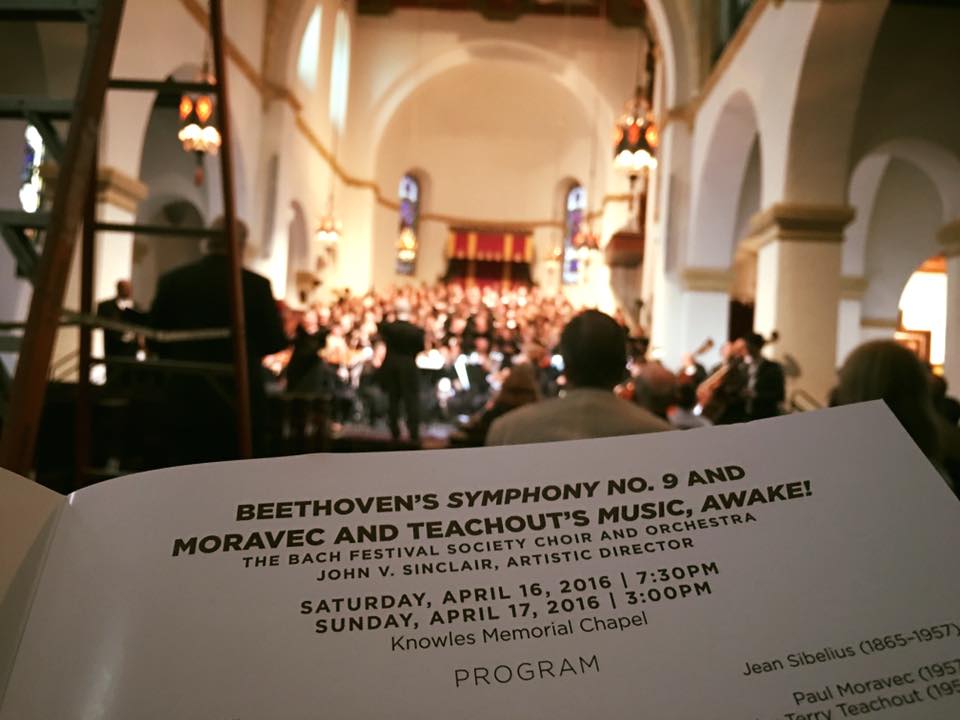 Three years ago this past April, my old friend John Sinclair and the Bach Festival Society Choir and Orchestra of Winter Park, Florida, gave the world premiere of my most recent collaboration with Paul Moravec, Music, Awake! It's an anthem for soloists, chorus, and orchestra, an ode to music for which I wrote the text, my first (and, so far, only) poem.
The occasion was John's twenty-fifth anniversary as artistic director of the Bach Festival Society. It had a unique importance for me as well, for it was John's presence at Winter Park's Rollins College that inspired Mrs. T and me to start spending parts of our winters in Florida, which led in due course to all sorts of other hitherto unimaginably good things. Just six days after the Music, Awake! premiere, for instance, I flew back down to Florida to start rehearsing Palm Beach Dramaworks' production of Satchmo at the Waldorf, my professional debut as a stage director. For both of us, Florida had by then become a home away from home, and we're more than eager for Mrs. T to receive the double lung transplant that will ultimately allow us to go back there again.
It is for this reason that we welcome with special excitement the release this week of Music, Awake! Choral Music of Paul Moravec, a new album that contains gloriously well-performed studio recordings by John Sinclair and the Bach Festival Society of five of Paul's works for chorus and orchestra. The pieces themselves are all superb—Paul is one of the best choral composers I know—but it stands to reason that I should have special feelings about the fact that Music, Awake! is now available to the public.
I still recall with the utmost vividness
what it felt like
to hear
Music, Awake!
being rehearsed by flesh-and-blood singers and instrumentalists for the very first time. Naturally, I wrote about the experience in this space shortly after the fact, but I didn't have to look up that posting to remember every word of it:
Not finding John in his office, I pulled open a door across the hall and found him warming up the choir that would be singing the first performance that evening. I got a round of applause from the members of the choir, who proceeded to perform Music, Awake! for me. It was the first time that I'd heard it done by actual human beings (as opposed to the synthesized version on my MacBook). I was overwhelmed by the unexpected sound of my words being sung by a large, enthusiastic choir, so much so that I actually started crying—though I did have the presence of mind to remind the singers to be sure and hit the consonants hard at the concert!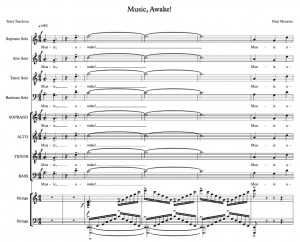 To have gone more or less straight from the premiere of
Music, Awake!
to my first rehearsal as a professional stage director was…well, let's just say it was quite something. Not counting the stupendous good fortune of my having fallen in love at first sight with Mrs. T, my
midlife transformation
from full-time critic to part-time opera librettist, playwright, and director is the most extraordinary and improbable thing that has ever happened to me, and as I listen to John's new album, the events of that fantastic week come back as if they'd taken place only yesterday.
I can't imagine what else life will hold in store for me from here on out, but any man not content with the bounties that have already been showered upon me doesn't deserve to be nearly as happy as I am.
* * *
To listen to
Music, Awake!
, go
here
. To download
Music, Awake! Choral Music of Paul Moravec,
go
here
. To read my program notes for the premiere performance of
Music, Awake!
, go
here
.
John Sinclair talks in 2016 about the commissioning of Music, Awake! and his years with the Bach Festival Society: