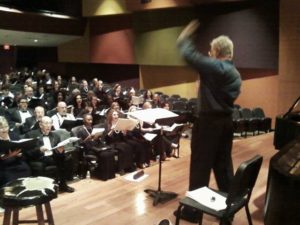 This morning I fly back to New York from Winter Park, Florida, where I attended the premiere of Music, Awake! on Saturday night. Mrs. T is under the weather—I inadvertently passed my nasty spring cold on to her—and so couldn't accompany me, which was the only blot on an otherwise miraculous weekend. All else was bliss, and then some.
No sooner did I get to Florida than I went to the music building of Rollins College in search of John Sinclair, the artistic director of the Bach Festival Society, for whom Paul Moravec and I wrote the piece. Not finding John in his office, I pulled open a door across the hall and found him warming up the choir that would be singing the first performance that evening. I got a round of applause from the members of the choir, who proceeded to perform Music, Awake! for me. It was the first time that I'd heard it done by actual human beings (as opposed to the synthesized version on my MacBook). I was overwhelmed by the unexpected sound of my words being sung by a large, enthusiastic choir, so much so that I actually started crying—though I did have the presence of mind to remind the singers to be sure and hit the consonants hard at the concert!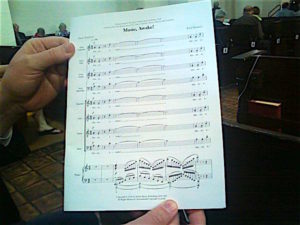 An hour later, Paul and I took our aisle seats in Rollins College's Knowles Memorial Chapel and listened to the Bach Festival Society Chorus and Orchestra sing and play Music, Awake! to perfection. That was, needless to say, an even more overwhelming experience. Even so, I think I may have been moved more deeply by the surprise-party performance that John and the choir gave for me alone.
My text is an ode to music. It's the first poem I've ever written, and I confess to being proud of this stanza in particular:
Out of mystery, faith;
Out of chaos, form;
Out of anger, love;
Out of terror, hope;
Out of silence, tone.
Console us, blesséd music,
And grant us peace.
When the performance was finished, I leaned over to Paul and said, "I think this might be a good time to tell you that our collaboration has been one of the great things in my life."
"Me, too, buddy," he replied.
No sooner do I get back to New York this afternoon than I'll be flinging myself head first into the final week of press previews for the current Broadway season. I'm seeing American Psycho tonight, Waitress and Fully Committed on Wednesday, and Tuck Everlasting on Thursday. Then, on Friday morning, I fly down to West Palm Beach, where I'll be spending the next three and a half weeks rehearsing Palm Beach Dramaworks' production of Satchmo at the Waldorf, which opens on May 13.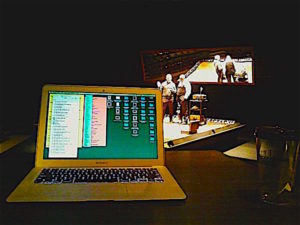 This will be, as regular readers of this blog know, my professional debut as a stage director. I rejoice to say that I'm making it in the company of Barry Shabaka Henley, who appeared in the Chicago premiere of Satchmo earlier this year and has agreed to do the honors in Florida as well. Yes, I'm feeling a little antsy, but Shabaka was stupendous in Chicago, and I have no doubt whatsoever that he'll tear it up in Florida. I doubt I'll be blogging quite as often from West Palm Beach as I did from Chicago and San Francisco in January, but I hope to report from the rehearsal hall whenever I can find a few spare minutes.
In the meantime, I've got a lot to do between now and Friday, and even more to do after that. Am I ready? I sure hope so—and I couldn't be more excited. Wish me luck.
* * *
To read Matthew J. Palm's Orlando Sentinel review of the premiere of Music, Awake!, go here.