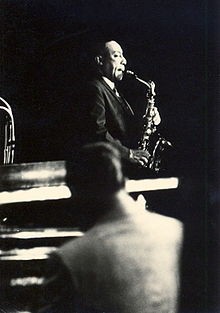 In this week's
Wall Street Journal
"Sightings" column, I call for shorter, better biographies. The immediate occasion is the publication of Con Chapman's
Rabbit's Blues: The Life and Music of Johnny Hodges
, a biography of Duke Ellington's great alto saxophone soloist, which is 227 pages long and contains not a single wasted word:
As I read "Rabbit's Blues," I thought: Why aren't there lots of books like this? Biographies have been growing longer and longer for decades now, and even when they're about deserving subjects, they're still likely to be far too clotted with hour-by-hour detail to suit the needs of the general reader. What I'd like to see, by contrast, are brief lives of artists about whom it would be pointless to publish what we now think of as a full-length book—the supporting players of art, so to speak….
Read the whole thing
here
.