In today's
Wall Street Journal
drama column I review an off-Broadway revival of
Caesar and Cleopatra
and the Broadway transfer of
The Height of the Storm
. Here's an excerpt.
* * *
It used to be that the major plays of George Bernard Shaw all got revived on Broadway with fair frequency—but no more. "Caesar and Cleopatra," for instance, was last seen there in a poorly reviewed 1977 version starring Rex Harrison and Elizabeth Ashley that closed in ignominy after just 12 performances. Since then, no fully staged "Caesar and Cleopatra" has been produced in New York, which is all the more reason to cheer David Staller's splendid new adaptation of one of Shaw's most glittering, least Shakespearean conversation pieces, in which the worldly Caesar (Robert Cuccioli) teaches the kittenish Cleopatra (Teresa Avia Lim) how to be a hard-headed political realist.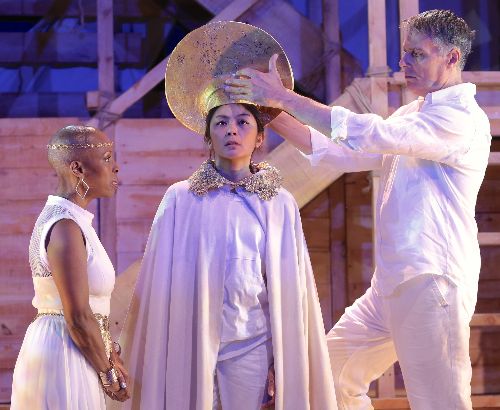 Sexy "Caesar and Cleopatra" isn't, nor did Shaw mean for it to be. He published it in "Three Plays for Puritans," the 1901 trilogy in which he took the stock genres of Victorian theater, turned them upside down and transformed them into incomparably ingenious plays of ideas, and at one point in the '30s, he even seems to have given serious thought to asking Shirley Temple to play the hot-blooded Queen of the Nile, which gives you a clearer idea of what he was up to….
As always, Mr. Staller, who knows more about Shaw than anyone else in America, gets it right, situating the action of the play in a modern-day archaeological dig and keeping the costumes simple and the diction crisp and clear….
Old actors never die, they just start appearing in old-actor plays, of which there are two kinds: feel-good old-age-isn't-for-sissies weepers like "On Golden Pond" and harsh old-age-is-a-shipwreck dramas like "The Waverly Gallery." Florian Zeller's "The Height of the Storm," which has transferred to Broadway after a successful West End run, is a play of the first kind dressed up to look like a play of the second kind.
Stripped of its over-elaborately Pinteresque mystifications, "The Height of the Storm" appears to be about a famous writer suffering from dementia (Jonathan Pryce) who hasn't done right by his loyal, long-suffering wife (Eileen Atkins). Will she stick with him to the bitter end? (Yes, other interpretations of the play are absolutely possible, but this one strikes me as the most believable of the lot.) I give Mr. Zeller credit for not being obvious about the denouement, but beyond that, "The Height of the Storm" has little to offer save the opportunity to see two great actors in the finest possible form….
* * *
To read my review of
Caesar and Cleopatra
, go
here
. To read my review of
The Height of the Storm
, go
here
.
The trailer for Caesar and Cleopatra:
The trailer for the original British production of The Height of the Storm: