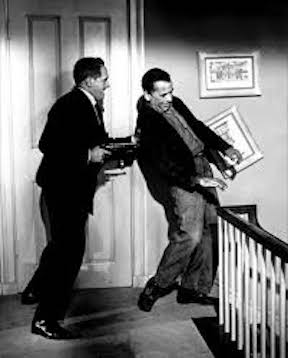 In case you hadn't noticed, @terryteachout, my Twitter account, was hacked on Sunday morning as part of a cross-platform attack on my social-media presence. The objective, it seems, was ransom: I actually received a series of telephone calls from the culprits, who appear to reside in England. Needless to say, I hung up and immediately started changing passwords and building a higher security wall.
After careful consideration, I also asked Twitter to deactivate @terryteachout and started a brand-new Twitter account, @TerryTeachout1. This meant, of course, that all of my old Tweets vanished into the memory hole and that I lost my 15,000 followers. Be that as it may, I felt more comfortable with this drastic solution: I simply didn't want to be associated with the old account any more. It felt dirty, if you know what I mean, in the same way that a house that has been burglarized feels dirty. All things considered, I thought it best to start from scratch.
Alas, several hours went by before the powers-that-be at Twitter took notice of my plight, and numerous obscene postings were still visible on my old Twitter page, as well as on the Twitter module in the right-hand column of this blog, well into Monday. I did, however, receive this message from Twitter Support late Sunday night:
We've investigated the reported account and have determined that it is not in violation of Twitter's impersonation policy. In order for an account to be in violation…it must portray another person…in a misleading or deceptive manner.
That was how Twitter Support responded when my verified account was hacked, obscene and racist messages were posted on it, and a ransom request was made to me by telephone. Is it any wonder that more and more people are getting fed up with Twitter?
The good news is that an earlier version of this posting went viral last night. No doubt as a result of the overwhelming public response to my complaints, Twitter Support finally deleted my hacked account and verified @TerryTeachout1 as of six p.m. tonight. I should add that once I managed to engage with an actual human being at Twitter, my problems were solved within a couple of hours. I only wish it hadn't been so hard for me to get past the bots—but I'm still grateful.
If you followed me at @terryteachout, I hope that you'll move over to @TerryTeachout1 and share my new handle with your friends. I put a lot of energy into Twitter—I get great pleasure out of it—and I expect to continue to do so. Thanks for your support—and please keep spreading the word about my new Twitter home!
UPDATE: It turns out that my attackers planted a trojan-horse virus in my laptop that locked me out of Twitter and my e-mail account again this morning. Fortunately, I'd already taken precautions that prevented them from vandalizing my new Twitter feed, but the virus appears to have contained a time bomb that has now erased my e-mailbox and address book. If you are a personal friend who has my e-mail address, do please drop me a line as soon as possible so that we can re-establish contact.