In this week's "Sightings" column I reflect on the renewed relevance of one of the most popular Hollywood films of the Forties. Here's an excerpt.
* * *
In the wake of the battle over the confirmation of Brett Kavanaugh, the U.S. Supreme Court's new associate justice, boiling vats of printer's ink are still being spilled over the problem—if it is a problem—of cultural and political polarization in America. Is such polarization on the rise, or is it merely an optical illusion fostered by aggressive social-media trolling?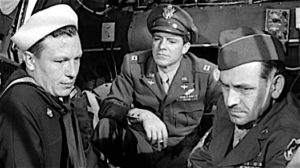 This question, unlikely as it may sound, came to my mind when Turner Classic Movies recently aired one of the biggest hit movies of 1946. "The Best Years of Our Lives," in which William Wyler portrayed three vets who had just come home from serving in World War II, won nine Academy Awards and was praised by pretty much everybody who saw it when it first came out. Even the waspish Billy Wilder called it "the best-directed picture I've seen in my life." "The Best Years of Our Lives" declined noticeably in popularity and prestige after 1960, partly because of its length (nearly three hours) and partly because younger critics, among them Pauline Kael and Andrew Sarris, dismissed it as a middlebrow weeper. But the film's reputation has rebounded in recent years, in part because Mark Harris wrote about it so well in "Five Came Back: A Story of Hollywood and the Second World War" (2014). Today, few months go by without its being screened on cable TV…
So what does "The Best Years of Our Lives" have to do with the latter-day polarization of America? Simple: It's a portrait of a time when American men of all kinds were thrown together to fight for a common cause. You couldn't buy your way out of the wartime draft, nor could you avoid it by staying in school. Unless you had bonafide health issues, you were normally expected to serve in the military if you were under the age of 45, and many older men volunteered anyway. No matter who you were or where you came from, you lived, worked and fought alongside men of every class and background (except, of course, for blacks, who were still subject to the shameful injustice of racial segregation). Even if you didn't like them, you had to trust them—at times with your life….
* * *
Read the whole thing here.
A scene from The Best Years of Our Lives: