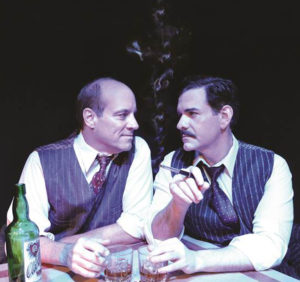 Two weeks from today, I fly down to West Palm Beach with my bags packed for a six-week stay. I'll report for duty the next morning at Palm Beach Dramaworks' rehearsal hall, where Bill Hayes and the cast of Billy and Me, my second play, will be going to work. I spent a near-ecstatic month in that same room a year and a half ago, directing Satchmo at the Waldorf. My job is very different this time around: Bill is directing the show, and I'll be there to sit, watch, answer questions, and revise and polish the script as needed. Still, I'll be surprised if I don't feel pretty much the same way.
A couple of months before Satchmo went into rehearsal, Bill said to me, "Tell me, do you think there's a play to be written about Tennessee Williams and William Inge?" Sure enough, there was, and the first draft of Billy and Me was finished two weeks later. I've been chipping away at it ever since. I finished the final pre-rehearsal draft last month and e-mailed it to Bill, who sent it out to the cast and production team. Since then, I've been doing my best not to think about Billy and Me, and I've successfully resisted the temptation to keep on tinkering. It's time to take it into the shop and get down to business.
I wrote in this space five years ago about the experience of rehearsing and revising Satchmo at the Waldorf for its Shakespeare & Company production. I've never learned more about anything in a shorter stretch of time than I did that summer about what Alan Ayckbourn calls the crafty art of playmaking. One of the things I learned is that what Moss Hart wrote about revising a play on the fly in Act One, his autobiography, is literally true. It really is possible to write a new scene overnight, or to write a new speech on the spot. That's what the rehearsal period does to you: it heightens your creative powers to a breathtaking degree.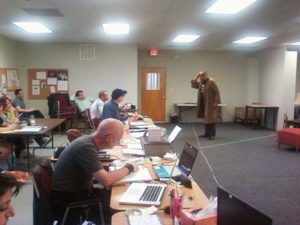 Until I went through the refiner's fire of rehearsing a new play for the first time, I didn't know what the phrase "in the moment" really meant. No sooner do you walk into the rehearsal room than all else recedes from your consciousness, and nothing exists but the day's work. You have no choice but to take time out from the rest of your life and immerse yourself in the imaginary world of the play and its production—and once you let go of everything else, you become strangely happy. If, like me, you lead a complicated life, it feels almost like a vacation to set aside your cares and think about one thing all day, every day.
I've been looking forward to this particular vacation more than I can say. I love my life, but I'm ready to get away from it for a few weeks and set sail on the ship that will take my collaborators and me to opening night. The seas will likely get rough between now and then, but I don't care. I'm counting the hours until it's time to go to work again.
* * *
Preview performances of Billy and Me begin in West Palm Beach on December 6 and the show opens on December 8. For more information, go here.
The "teaser trailer" for Billy and Me: