In today's Wall Street Journal drama column, I review a Vermont revival of Neil Simon's Broadway Bound and an off-Broadway production of As You Like It. Here's an excerpt.
* * *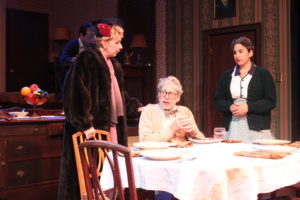 Neil Simon has disappeared from Broadway, a street that he used to own. Only one of his plays, the 2005 Nathan Lane-Matthew Broderick revival of "The Odd Couple," has had a successful run there in the past decade and a half. For this reason, I've spent the past few seasons seeking out regional revivals of Mr. Simon's plays in an attempt to learn how they're holding up now that fashions in comedy have changed. That's what brought me to Vermont last week to see "Broadway Bound," whose David Cromer-directed 2009 Broadway revival was canceled due to lack of interest—and you know what? It turns out to be a very strong piece of work, one of the most impressive of the more-or-less autobiographical plays in which Mr. Simon portrayed the splendors and miseries of his youth with a potent blend of harsh candor and honest sentiment.
Oldcastle Theatre Company, a 46-year-old troupe headquartered in a 120-seat theater in downtown Bennington, is giving "Broadway Bound" an unusually effective staging, one that profits from the presence of a rock-solid cast. All six members are wholly believable in the roles of Eugene (Anthony J. Ingargiola), Simon's fictional alter ego, and the extended family with which he lived in deepest Brooklyn. Best of all—if only by an inch or two—is Sarah Corey, who plays Eugene's mother, a once-lively Jewish hausfrau whose spirit has been battered by the slow crumbling of her marriage to an angry, dark-souled husband (Jason Asprey) who is seeing another woman on the side. But everyone in this production is distinguished…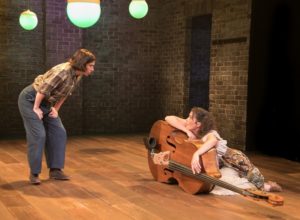 Classic Stage Company, one of New York's most admired off-Broadway theaters, has launched its fiftieth season with an "As You Like It" directed by John Doyle, who become CSC's artistic director last year. Mr. Doyle, who specializes in spare small-scale stagings of musicals, hasn't done much Shakespeare, and this production, a 100-minute-long minimalist version of Shakespeare's comedy, is very much in the now-familiar style of his CSC revivals of Stephen Sondheim's "Pacific Overtures" and "Passion." The set, which he designed himself, is as close to a bare stage as you can get, and the actors, as is also Mr. Doyle's wont, supply their own instrumental accompaniment for the agreeable Broadway-style songs, set to Shakespeare's words by Stephen Schwartz, with which the show is sprinkled.
Perhaps in part because the first song doesn't come along until a half-hour into the proceedings, Mr. Doyle's "As You Like It" gets off to a slowish, oddly unspecific start. It feels as if we are meant to see Ellen Burstyn, who is dressed in drag as Jaques and spends much of the first part of the play sitting on a trunk reading along with a script that she holds in her lap, as the director—or possibly not. Truth to tell, I never really thought that Mr. Doyle's underlying concept for the production registered with full clarity…
* * *
To read my review of Broadway Bound, go here.
To read my review of As You Like It, go here.
Linda Lavin and Jonathan Silverman perform a scene from the original production of Broadway Bound on the 1987 Tony Awards telecast. They are introduced by Angela Lansbury: