In today's Wall Street Journal "Sightings" column I reflect on The Jazz Singer, which was released ninety years ago tomorrow. Here's an excerpt.
* * *
Ninety years ago this week, a New York audience saw—and heard—Al Jolson step in front of a camera and say "Wait a minute, wait a minute, you ain't heard nothin' yet!" Those 11 words changed the world. Jolson's signature line, spoken in "The Jazz Singer," was the first lip-synchronized speech heard in a feature-length film. Before then, feature films were "silent." When actors moved their lips, their dialogue was printed on title cards flashed on the screen. All you heard was background music played live by a pianist, an organist or a pit orchestra. "The Jazz Singer" changed that forever. Within two years of its release, Hollywood stopped making silent movies. In a single dazzling stroke of innovation, the "talkies," as sound films were initially known, had made them obsolete….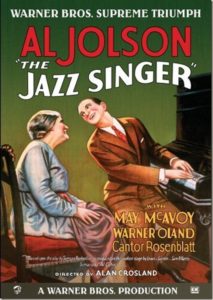 Writing a few weeks after its release, Robert E. Sherwood, a movie critic who later became one of America's top playwrights, found it to be "fraught with tremendous significance," but not for its artistry. "I for one suddenly realized that the end of the silent drama is in sight," he wrote. Sherwood may have been the first writer to fully grasp the culture-changing power of "The Jazz Singer": Not only did it introduce a new storytelling medium, but it killed off an old one.
By 1927, silent film had produced a considerable number of works of art that are—or should be—as watchable today as they were then Thanks to TCM, it's possible for contemporary audiences to view Buster Keaton's "The General," Fritz Lang's "Metropolis" and F.W. Murnau's "Sunrise" and see how much a movie without words can say. But the existence of these masterpieces made no difference to ordinary moviegoers, then or now. They preferred the talkies, and the film industry, both here and abroad, unhesitatingly gave them what they wanted….
Is this a bad thing? I suppose so, though I'm more inclined to see it as an example of what the Austrian economist Joseph Schumpeter called "creative destruction." He believed that capitalism "incessantly revolutionizes the economic structure from within, incessantly destroying the old one, incessantly creating a new one." That's more or less what happened to silent film: It was destroyed by a technological innovation that was instantaneously embraced by vast numbers of people. As a result, the careers of many gifted artists dried up and blew away—but without it, we'd still be reading sketchy fragments of dialogue off title cards instead of hearing for ourselves the unforgettable sound of Humphrey Bogart growling "Of all the gin joints in all the towns in all the world, she walks into mine" in "Casablanca." So who made out on the deal? We all did.
What I find most interesting about this radical transformation of mass taste, however, is that it is nearly unique in the history of art….
* * *
Read the whole thing here.
Al Jolson's first dialogue scene in The Jazz Singer: