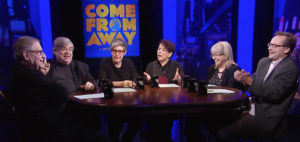 It's time once again for my annual appearance on Theater Talk, the weekly TV series hosted by Susan Haskins and Michael Riedel in which theatrical types talk about…theater. This week I'm part of a panel of drama critics discussing the spring season on Broadway. Peter Marks, Elisabeth Vincentelli, Linda Winer, and I hold forth on the latest hit shows with great good humor, considerable disagreement, and a fair amount of acerbity (none of it mutual).
If you live in the New York area, our episode will air on WNET at 1:30 a.m. on Friday (or, to be exact, Saturday morning) and 11:30 a.m. on Sunday. As always, it will also be televised on other channels, and you'll be able to view the episode on line next month by going here.
For more information on air dates and times, go here.
One more thing: we had so much fun that further excerpts from our conversation will be telecast next week as well! Watch this space for details.