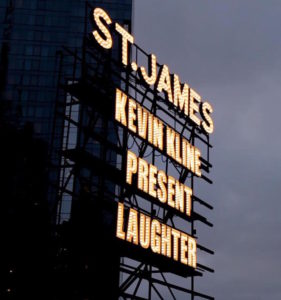 Like many other major newspapers, The Wall Street Journal has started presenting special events for its subscribers. The editors approached me a few weeks ago about taking part in a theatrical event, a post-show talkback that I would moderate. When asked what show I thought might be most attractive to our readers, I suggested, among others, the Broadway revival of Noël Coward's Present Laughter, which I had recently reviewed with unbridled enthusiasm. They liked the idea and promptly went to work, and on Thursday of last week, I showed up at the Hudson Theatre, where I saw the show a second time, then went on stage after the performance to interview Moritz von Steulpnagel, the director, and Kate Burton and Cobie Smulders, two of the stars, in front of a group of WSJ+ subscribers.
I rarely get to see Broadway productions a second time and usually wouldn't do so even if I could, there being so very many worthy shows to see, in New York and elsewhere, and not enough nearly time for me to catch more than a handful of them. Present Laughter, however, was an exception, both because I love the play so much—I think it's the best thing Coward ever wrote—and because Mrs. T, who accompanied me on Thursday, wasn't able to see it the first time around. Not only is Kevin Kline staggeringly good as Garry Essendine, Coward's not-so-very-fictional alter ego, but the rest of the cast is uniformly strong, and von Steulpnagel, who made his Broadway debut two seasons ago with Hand to God, is one of the most prodigally talented directors of stage comedy to come along since I started reviewing theater for the Journal. Having recently started directing myself, I relished the opportunity to talk to him about the fine points of his craft.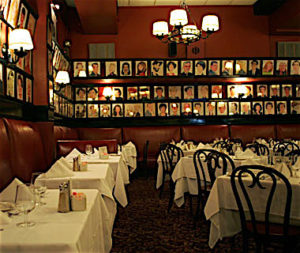 Mrs. T and I dined before the show at Sardi's, which is next door to the St. James and to which she'd never gone. Sardi's, which has been around since 1927, used once upon a time to be a hangout for Broadway types. Now it's a tourist trap, the kind of place where bridge-and-tunnelites go to eat after seeing a Phantom of the Opera matinée, but the walls are still festooned with old-timey celebrity caricatures and the food is surprisingly tasty. All in all, we felt that we'd gotten our money's worth.
No sooner did we arrive at the theater than we saw a sign in the lobby explaining that the Thursday-night performance of Present Laughter was being videotaped (or whatever you call it nowadays). It seems that BroadwayHD and WNET will be telecasting the production, which closes on Sunday, some time this fall. To this end, the house was full of discreetly positioned TV cameras, and those of us who noticed their presence were both amused and not a little bit excited. "Do you think I'll get to be on TV?" Mrs. T asked with a grin. "Maybe the back of your head," I replied, pretending to be blasé, though she knew perfectly well that I still find a small-town boy's glee in such things.
Mrs. T touched my arm immediately before the play got underway. "I just remembered something," she said. "The first Broadway show I ever saw was in this same theater. My Uncle John took me to see On the Twentieth Century forty years ago—and you know what else? Kevin Kline was in it!" We laughed out loud at how her personal history had come full circle that night. Then the lights went down, the curtain went up, and the show got underway.
The performance, not surprisingly at all, was (as Carl Van Vechten said of the premiere of Four Saints in Three Acts) a knockout and a wow. I suspected that the actors, knowing that they were being taped for posterity, gave it a little extra zing, but even so, it was fascinating to see how the production had evolved since I'd first seen it in previews nearly three months earlier. To be sure, nothing drastically different occurred on stage—the changes were all a matter of subtle detail—but it was plain to see that the cast had settled into the show, something that hasn't yet happened when I attend the press previews that I customarily review in the Journal. Everyone was clearly having a good time, not in the sloppy, over-obvious way that can corrupt a long-running show but in the joyously relaxed manner that speaks of the greater self-assurance that is the product of repetition alone.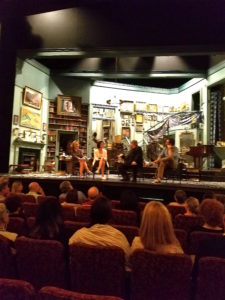 When the play was over, my Wall Street Journal handler took me backstage to the greenroom, where Moritz von Steulpnagel awaited me. We exchanged a few brief words as the house was clearing out, then went on stage to talk to the subscribers while the women panelists changed into civilian clothes.
I'd spent a few preliminary minutes in the cab thinking through what I wanted to ask my fellow panelists, but outside of that, there was no rehearsal or preparation for the event. Having done countless Satchmo at the Waldorf talkbacks, I figured I'd do best to wing it, and I was right. Moritz, as I'd expected, proved to be articulate about the mysterious process of directing, and he needed no encouragement from me to say interesting things about how Present Laughter had taken shape in rehearsal.
Not long after we got started, Kate Burton came on stage. Her hair was in pin curls (she dons a wig for the show) and she wore Bermuda shorts and flip-flops. She looked just like someone you'd see walking down the street on a brutally hot day—except, of course, for the inescapable fact that she was Kate Burton, Richard's daughter and an actor of supreme distinction in her own right, one whose work I've praised unstintingly in the Journal. I am, truth be told, by way of being a fan, and while I greeted her with what I trust was unflappable professionalism, I don't mind admitting that had a thought balloon formed over my head at that moment, it would have read HOLY SHIT, I'M TALKING TO KATE BURTON! (Yes, drama critics are perfectly capable of being starstruck.)
"Call me Kate," she said with a warm smile, then sat down and started chatting enthusiastically. We were joined a minute or two later by Smulders, a gifted young actor who is making her Broadway debut in Present Laughter, though you'd never guess it from her terrifically assured performance as Joanna, the unscrupulous vamp who lures Garry Essendine into bed, in the process triggering the play's farce-like denouement.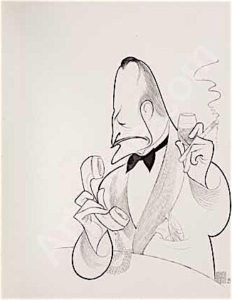 I thought it might be fun to tell the audience about how Mrs. T had seen Kevin Kline on the same stage in On the Twentieth Century. "Omigod, I saw Kevin in that show, too!" Kate said, laughing happily. This inspired me to ask about her previous appearance in Present Laughter, a 1982 Circle in the Square revival in which she'd made her own Broadway debut, playing the ingenue role opposite George C. Scott, who doubled as his own director. She spoke of the experience with fondness and—I suspect—a not-inconsiderable amount of tact, Scott having been famously temperamental both on and off stage.
When it was all over, the four of us retreated into the wings and I headed for the stage door. Kate stopped me, took me aside, and said that she'd always wanted to thank me for my review of a play by A.R. Gurney in which she appeared back in 2010. We spoke fondly for a moment of the play and its author, who died a couple of weeks ago. Then I went back into the house and collected Mrs. T, and we headed for home.
The next day I found myself thinking about the memories that Kate, Mrs. T, and I had shared. In all its myriad manifestations, theater is the most evanescent of art forms. As I wrote in the Journal a few years ago:
George Balanchine, the greatest choreographer of the 20th century, believed that all ballets, even his, were like butterflies: "A breath, a memory, then gone." Twenty-nine years after his death, Mr. Balanchine's ballets continue to be performed throughout the world, but it's also true that the way in which they are danced today is not the way in which they were danced when Mr. Balanchine himself was around to rehearse them. The steps may be the same, but the nuances are different—sometimes joltingly so…

What is true of ballet is no less true of the other lively arts. Change is built into their natures. You watch a performance and then…it's gone. All that work, all that passion, all that dedication, and when it's over, it's over, leaving nothing but memories—and, if you're lucky, a recording that can serve as a souvenir, however imperfect, of the experience.
Now that I write and direct plays myself, I've become even more intensely aware of the fundamental impermanence of the art form to which I've chosen to devote my late middle age. Theater people are in the business of making sand castles, into whose design and construction we pour all that we know and are—and then the tide sweeps them away, and all that remains are a soggy heap of sand and our memories of how grand they were.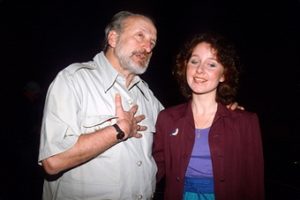 On the other hand, such memories are made to be shared, and it was unutterably lovely to spend a few minutes talking to a great lady of the theater about her own memories of working with a legend. And when Mrs. T and I take her father to see the BroadwayHD telecast of Present Laughter later this year, it will be no less lovely to sit in a darkened movie house in Connecticut, point at the screen, and say, I remember! We were sitting in the third row, laughing in the dark—and wasn't Kate Burton nice?