In today's Wall Street Journal I review the Broadway transfer of a British stage version of 1984. Here's an excerpt.
* * *
Like all great parables, George Orwell's "Nineteen Eighty-Four" long ago cast off from the dock of its original intent and set sail on the sea of ambiguity. When Orwell published the book in 1948, he meant for it to be read as a plausible nightmare, a cautionary portrait of (in his words) "what communism would be like if it were firmly rooted in the English-speaking countries, and was no longer a mere extension of the Russian Foreign Office." But a quarter-century after the dissolution of the Soviet Union, anyone who now puts the novel on the stage or screen is more likely to have a different tale to tell, and a different reason for telling it.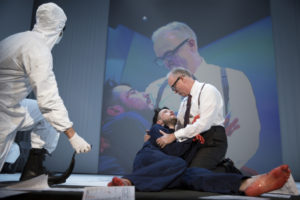 Enter Robert Icke and Duncan Macmillan, whose freely adapted 2014 stage version of "1984" has just transferred to Broadway from London's West End. Messrs. Icke and Macmillan, who double as the show's directors, have updated the tale of Winston Smith (played by Tom Sturridge) by using a huge video screen suspended over the stage to portray the modern digital technology with which Big Brother and his henchmen spy on the hapless Winston and his fellow citizens. The idea, I assume, is to make "Nineteen Eighty-Four" more immediately relevant to our latter-day age of digital post-privacy.
We may also safely assume, however, that those responsible for bringing "1984" to Broadway were well aware of the fact that Orwell's novel shot to the top of the U.S. best-seller lists in the immediate wake of Donald Trump's election to the presidency. Lest we forget, Winston Smith worked in the Ministry of Truth, Orwell's fictional purveyors of "fake news" and "alternative facts" avant la lettre, which explains the sudden explosion of interest in the book. But while theater in America lately seems to be aspiring to the condition of All Trump, All the Time, no attempt has been made to shoehorn boo-hiss-stone-him-to-death references to the president into this play or its production. What we have here, instead, is a multimedia extravaganza à la "The Curious Incident of the Dog in the Night-time," one whose moral, insofar as I can tease it out, is that Big Brother is watching us right this second….
The rest of "1984," however, is broadly faithful to the novel, with Orwell's moral—that the unforgivable sin of totalitarianism is to erase the past and make all truth relative—left wholly intact. The continuing applicability of this moral to current events makes it regrettable that "1984" isn't more theatrically potent than it turns out to be….
* * *
Read the whole thing here.
The trailer for the original British production of 1984:
The 1956 film version of 1984, directed by Michael Anderson, scored by Malcolm Arnold, and starring Edmond O'Brian and Michael Redgrave: