In today's Wall Street Journal I write about New York revivals of Horton Foote's The Traveling Lady and Scott McPherson's Marvin's Room. Here's an excerpt.
* * *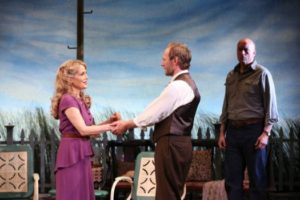 "The Traveling Lady," among the most tenderly poignant of the soft-spoken studies of small-town life in which Horton Foote specialized, has had its ups and downs—mostly the latter. It ran for just three weeks on Broadway in 1954. Three years later, Kim Stanley, the star of that ill-fated production, repeated her much-admired performance on TV's "Studio One," and in 1965 the play, retitled "Baby the Rain Must Fall," was unsuccessfully filmed, this time as a vehicle for Steve McQueen. But by then Mr. Foote's once-promising career was in eclipse, and it wasn't until years later that he was generally recognized as one of America's most important playwrights. Now the original stage version of "The Traveling Lady," judiciously tightened by Mr. Foote from three acts to one for a 2004 revival, is being performed off Broadway in a production directed by Austin Pendleton, who has a knack for making smart things happen in small theaters. He's done it again: I feel certain that Mr. Foote himself would have delighted in the perfect stylistic unanimity of this lovely revival.
In all its iterations, "The Traveling Lady" tells the story of Georgette (Jean Lichty), who comes to Harrison, the tiny Texas town that was the center of Mr. Foote's semi-fictional universe, to await the imminent release from prison of Henry (P J Sosko), her ne'er-do-well alcoholic husband, an aspiring country singer who can't manage to stay out of trouble. What follows is a tightly snarled web of hope and disappointment…
As always, Mr. Pendleton has staged "The Traveling Lady" with a gentle understatement that draws you in before you know it, and his actors exude a feeling of community so strong as to create the impression that they've known one another for years, maybe decades….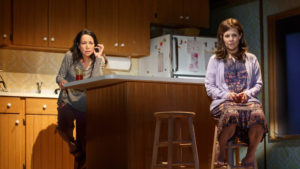 Scott McPherson's "Marvin's Room," which ran off Broadway in 1991 and was filmed five years later, has made it to Broadway at last. I'm surprised it took so long, since it's the kind of play that typically goes over big there, a kitchen-sink-and-hospital-room cancer comedy in which all of the characters say cleverish things most of the time. The characters in question include Bessie (Lili Taylor), a dutiful daughter who comes down with leukemia after spending 20 years caring for her (unseen) senile father; Lee (Janeane Garofalo), Bessie's not-so-dutiful sister, who flew the family coop as fast as she could but now finds herself saddled with a teenage son (Jack DiFalco) who set fire to her house and is now in a mental institution, and…but you get the idea, right? Lots of laughs, lots of jerked tears, very little reality….
* * *
Read the whole thing here.
Austin Pendleton talks about his off-Broadway revival of Horton Foote's The Traveling Lady:
The 1957 Studio One TV version of The Traveling Lady, adapted by Foote, directed by Robert Mulligan, and starring Kim Stanley, Steven Hill, Robert Loggia, and Mildred Dunnock. This performance was originally telecast live by CBS on April 22, 1957: