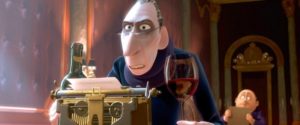 I was amusing myself on Twitter before turning off the light and going to sleep last Friday night, and had occasion to post this deliberately curmudgeonly sentiment: "For the gazillionth time: 'No problem' is NOT the correct reply to 'Thank you very much.'"
I had no reason to suppose that more than a handful of people would bother to respond to my trivial little exercise in inter-generational trolling, and I assumed that most of those who did so would react pretty much as Mrs. T did when she saw it: "Prig." (For the record, she was kidding, but on the square.) To my astonishment, it went viral, albeit in a modest way. I received some two thousand direct replies, far too many for me to easily break down along pro-con lines, though my impression—possibly mistaken—is that they split more or less evenly.
I don't think I need to say much about those who agreed with me. They felt, as I do, that there is something tin-eared and unresponsive about "No problem," even when, as is often the case, it's sincerely meant. As for those who begged to differ, I received a couple of hundred replies that said, "Hey, no problem!" That got old after about ten minutes, though five other "funny" replies did make me laugh:
• Chillax, bro.
• Prescriptivist codswallop.
• Will this be on the test?
• You're right. The correct response is, "Kiss my ass, boomer scum."
• "The contemptible Millennials ONCE AGAIN fail to bow when my litter enters the Starbucks."
What surprised me far more than the sheer number of replies was the fact that so many people were made angry—really, really angry—by a total stranger's expression of tepid distaste for a now-commonplace conversational mannerism. This inspired me to cull the most noteworthy negative replies and sort them into four illustrative categories. The tweets posted below are representative of dozens of others just like them. (All replies are unedited.)
The vast majority of my angriest respondents were millennials, among whom the use of "No problem" is widely thought to be second nature. It is, I'm led to understand, their way of being polite, though you couldn't prove it by the ones who wrote to me in a die-soon-old-man vein:
• we get it, you're old as fuck, calm down
• Sure thing, no problem. (PS fuck the old.)
• I'm gonna put you in a home old man. This world doesn't belong to you anymore.
• ohmYGOD STOP BEING SO OLD. LANGUAGE CHANGES YOU GRUMPY OLD FUCKS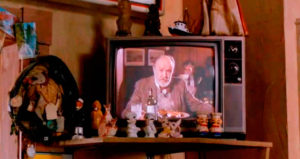 • Nobody cares old man. Pour yourself another prune juice and lighten the fuck up.
• it's going to be great when all the boomers are gone
• The folks most upset on this thread are the ones denying the objection. Your intolerance is intolerable. You are old-minded.
• Bookmarking for the next time I see a thinkpiece about easily-outraged young people with their microaggressions
• delete your account and never log back in. sincerely. this is not the place for you. you're a relic & nobody cares what you think.
Many other responses were specifically class- and politics-driven:
• Shut up newt gingrich
• Hey Terry, did you know the arctic is melting?
• Imagine having so few problems in your life that this bothers you.
• Prescriptivist policing of casual phrasing is the refuge of ableist cowards who wish to feel superior to others.
• Fascist gonna fascist
• [minimum wage worker tries to get through the day] [haughty theater critic rages internally]
• Guarantee you this guy is a shitty tipper.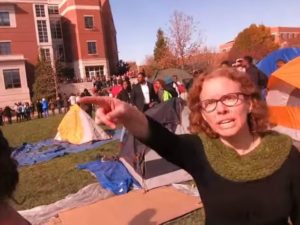 Several respondents, presumably in the name of intersectionality, played the race card:
• When will old white men get over themselves lmao
• ah, when a weird guys rant about modern colloquialisms devolves into literal racism
• Yup, the peasants are getting uppity and the servants need a beating and more training. They should be grateful always to their white lord.
• No surprise coming from someone who's got a giant stick parked up their ass over informal conversation. Love to hear you rant on ebonics.
• You had a hard time when it wasn't okay to call African-Americans "colored" anymore, didn't you
Most of the harshest responses, however, amounted to little more than reflexive how-dare-you-disagree-with-meism:
• How's "blow me" suit you
• The correct response is kiss my ass bitch
• At work, when a customer says thank you to me, I say "of course", "no problem", and "sure!" Literally eat my ass
• For the gazillionth time: stop fucking policing the way people speak.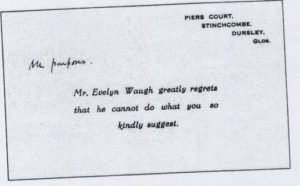 • Hi, Terry. Kindly go jump up your own ass and pull your linguistic prescriptivism up there after you. No problem!
• Okay lemme try: "bite me fuckwit" did I do this good who cares
• you're a fuckboy.
• "Shut the fuck up, you feckless abortion" is the correct response to a Terry Teachout tweet.
Does any of this really matter? I didn't get any death threats, after all. Come Saturday morning the outrage robots had found juicier bones on which to gnaw, and by Sunday we were all preoccupied with the latest terrorist assault on London. But writers, being writers, are compelled by their nature to seek significance in unexpected events (writers gonna writers!). So I couldn't help but put on my thinking cap as my "notifications" box bulged with the irate replies of people to whom my passing grump did matter—enough, at any rate, for them to tell me off in startlingly large numbers.
It goes without saying that a great many of these latter replies betoken the diminishment of civility enabled by the social media, and in particular by Twitter, which facilitates anonymous hit-and-run sideswiping. I was struck by the high percentage of my respondents who tweet under pseudonyms, especially those whose tweets contained the word "fuck."
I was also struck by their humorless touchiness. These respondents clearly aren't accustomed to being criticized, however mildly, and just as clearly don't know how to deal with it, civilly or otherwise. Indeed, my impression is that they actually feel threatened by criticism, and think themselves entitled to respond to it in a way whose tone speaks for itself. We're seeing a lot of that kind of thing nowadays, especially on campus.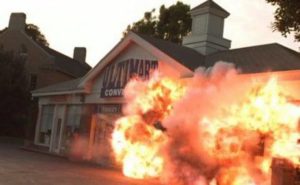 Above all, though, I was struck by the furious resentment that came boiling into my Twitter feed as a result of my casual observation, as well as by the assumptions implicit in this resentment. It was, lest we forget, a one-sentence tweet devoid of context. Nevertheless, many respondents seem to have taken it for granted that I was portraying a real-life encounter between a haughty middle-aged man of means (i.e., me) and a poorly paid millennial convenience-store clerk (i.e., them). And while hundreds of people earnestly assured me, some pleasantly and others less so, that there is no definitional difference between "No problem" and "You're welcome," I soon lost count of the responses which made it crystal-clear that there is, at least for these particular respondents, a huge and purposeful difference.
These two tweets were characteristic:
• This may come as a shock, but it might have been. I'm sorry old folks like to assume everyone should be grateful to serve them.
• They're telling you that you're not welcome, that they're simply being forced into helping you as part of their crappy job.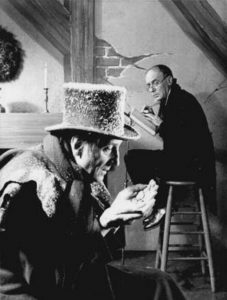 It happens that I know something about crappy jobs. When I was in my twenties, I spent several years working as a teller in an inner-city bank. It was, in fact, a perfectly decent job as jobs go, but I still hated it, in part because I feared that I'd hit a dead end that I might never be able to steer around.
As I later wrote of this painful part of my life:
At night I was a writer, on weekends a jazz musician. During the day, though, I was a servant. My nameplate was displayed for the world to see, and strangers, seeing it, called me by my first name….Once I had been a young man of unlimited promise. My teachers had predicted great things for me. Now I spent my days making change. My promise was running dry, my great expectations turning sour. I was sure I had gone as far as I could go. I expected to spend the rest of my life punching a clock.
Yet it never occurred to me to resent the customers who, as most did, went out of their way to treat me nicely. I responded in kind to their kindness. The only customers I resented were the ones who treated me like a servant, and there weren't all that many of them.
I can't help but wonder exactly who's treating my angrier respondents like servants and who, like me, is treating them with genuine, agenda-free politeness. I often get the feeling that young people are startled by my politeness—that it is something experience has taught them not to expect as a matter of course. I wonder, too, whether what my Twitter feed told me over the weekend was that many millennials are touchy and resentful precisely because they fear that service is their destiny and that they'll never know any other way of life. True or not, that's a terribly sad thought.
Just in case you're wondering, I always behave with perfect courtesy whenever people say "No problem" in response to my thanking them for doing me a service. I wouldn't dream of doing anything else, much less being anything other than gratified by a well-meant response, regardless of whether or not it happens to suit my linguistic tastes. Somehow I doubt that my more outraged respondents could make the same claim under different circumstances.
Incidentally, I like millennials—a lot. And I'm a big tipper.
* * *
The Who perform "My Generation" in concert in 1967:
A scene from Ghost World, written by Daniel Clowes and Terry Zwigoff, directed by Terry Zwigoff, and starring Thora Birch: